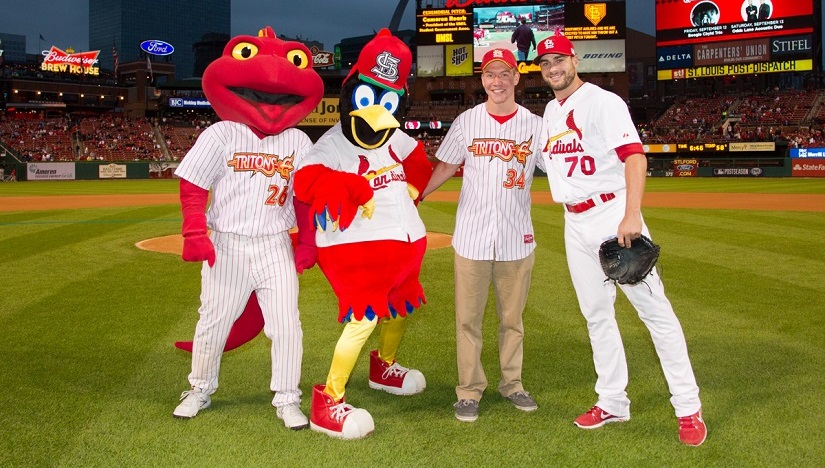 Louie, UMSL's fearless mascot, stands with the Cardinal's Fredbird at Busch Stadium.
The St. Louis area has a great variety of entertainment and cultural activities as well as ample shopping choices. Two professional sports teams—Cardinals baseball and Blues hockey—play in downtown St. Louis venues, and Saint Louis Football Club plays at a suburban soccer park. Laclede's Landing, a revitalized riverfront district, features additional entertainment opportunities, including Lumière Casino, restaurants, and shops. Also on the Mississippi riverfront is the Jefferson National Expansion Memorial which includes the famous Gateway Arch and the Museum of Westward Expansion.
St. Louis Union Station, formerly St. Louis' main passenger train terminal and a National Historic Landmark, now houses a hotel, restaurants and Hard Rock Café. Renovations have begun to add a 200-foot tall observation Ferris wheel, a food train park, light shows, and the St. Louis Aquarium.   Nearby is St. Louis Ballpark Village with the Cardinals Hall of Fame and Museum and restaurants.  Also downtown are the City Museum, a popular attraction which has been described as "an eclectic mixture of children's playhouse, funhouse, and architectural marvel,"  the National Blues Museum which includes interactive exhibits and performance space, and CityGarden which is a gathering place amidst sculpture and flora.
The Grand Center arts and entertainment district in mid-town includes the Saint Louis Symphony Orchestra, Contemporary Art Museum St. Louis, Pulitzer Arts Foundation, the Sheldon Concert Hall, Bach Society of St. Louis, Dance St. Louis, African Musical Arts Inc., Jazz St. Louis, St. Louis Public Radio—KWMU, KETC-Nine Network of Public Media, Fox Theatre, Kranzberg Arts Center and other arts groups. Nearby is the Chaifetz Arena which hosts concerts and athletic events.
Visitors enjoy exploring other areas including: South Grand Boulevard, a center for ethnic restaurants and art galleries; Cherokee Street's antique shops and restaurants; historic Soulard, featuring an open-air farmer's market, beautifully restored homes and the Anheuser-Busch brewery and biergarten; the Hill, home to Italian neighborhoods, shops and restaurants; the Central West End, with its restaurants, antique shops, and grand old homes; the Grove neighborhood with restaurants, music clubs and a brewpub; the Hi-Pointe-DeMun neighborhood with restaurants, shops and vintage movie theatre, and the Loop and Loop East with restaurants, music clubs and shops.
Other Attractions
There are more free, world class attractions in St. Louis than anyplace in the U.S. other than Washington, D.C.
St. Louis' Forest Park, site of the 1904 World's Fair, is 450 acres larger than New York's Central Park. It is frequented by runners, walkers, rollerbladers, picnickers, and birdwatchers. The park includes several golf courses, handball courts, playgrounds for children, playing fields for baseball, softball, and soccer, a tennis center and an outdoor ice skating rink.  Forest Park hosts several of the region's favorite cultural and educational institutions: the St. Louis Art Museum, the St. Louis Zoo, the St. Louis Science Center and the Missouri History Museum. All are free and open to the public but charge for special exhibits.  Even The Muny, a 12,000 seat outdoor theatre, offers free seats (nearly 1500) for its summer theater productions. The park also hosts a Shakespeare Festival in the summer, the Great Forest Park Balloon Race in September and many other free events open to the public including: Fair St. Louis, Earth Day, Art Hill Film Series, and an outdoor concert series. Some events, including the Summer LouFest Music Festival and the GO! St. Louis Marathon race, charge an admission fee. The Boathouse offers boat rentals for use on Post-Dispatch Lake and houses a restaurant. Other state parks and hundreds of neighborhood parks make St. Louis one of the greenest regions in the nation and is a beautiful place to visit.
Two popular National Historic Landmarks in St. Louis are: Missouri Botanical Garden, a 79 acre botanical garden and research facility with scenic landscaping, the Climatron, and the 14 acre Seiwa-en Japanese Garden, and Tower Grove Park, a 289 acre park featuring 11 Victorian-era pavilions, a bandstand featuring busts of famous composers (Mozart, Rossini, Beethoven, Wagner, Gounod, and Verdi), picnic grounds, and other recreational facilities.
Also, St. Louis is an area with lots of parades (e.g., Mardi Gras, St. Patrick's Day, Memorial Day, Fourth of July, Labor Day, Veterans Day, Thanksgiving Day, etc.) and numerous street and ethnic festivals including Mardi Gras, Cinco de Mayo, African Arts Festival, Greek Festival, Japanese Festival, Horseradish Festival, Irish Fest, Scottish Games, Fair St. Louis, Strawberry Festival, St. Louis Art Fair, Festival of Nations, St. Louis Blues Week, Pridefest, Loop Ice Carnival, Ribfest, Whitaker Jazz Festival, Brewers' Heritage Festival, and Oktoberfest.
Other interesting attractions in the area include Cahokia Mounds State Historic and UN World Heritage site, the site of a pre-Columbian native American city; Grant's Farm, a nature reserve including the Busch family mansion; the Magic House--St. Louis Children's Museum; Butterfly House; Purina Farms; Laumeier Sculpture Park; Museum of Transportation; Six Flags St. Louis amusement and water park; Historic St. Charles Main Street; Meramec Caverns; and nearby wineries.
Some popular historic sites in outstate Missouri include: Mark Twain Boyhood Home (Hannibal), Harry S. Truman Historic District (Independence), Sainte Genevieve Historic District (French Creole Colonial buildings from the late 1700s. Ste. Genevieve), George Washington Carver National Monument (Diamond), and Wilson's Creek National Battlefield (first Civil War battle west of the Mississippi River. Republic).
Missouri has numerous state parks and conservation areas for outdoor recreation including hiking, camping, boating, swimming, hunting, fishing, and spelunking. Lake of the Ozarks, near the center of the state, is a popular lake for recreational boating, fishing, partying, and relaxation. One unique park is the Katy Trail State Park, a bicycle/hiking trail that is the longest "rails to trails" project in the U.S. It runs almost 238 miles from near the confluence of the Mississippi and Missouri rivers to the west-central part of the state. In southern Missouri, a popular recreation destination for canoeing and floating is the Ozark National Scenic Riverways, the first national park to protect a river system: the Current and Jacks Fork rivers.