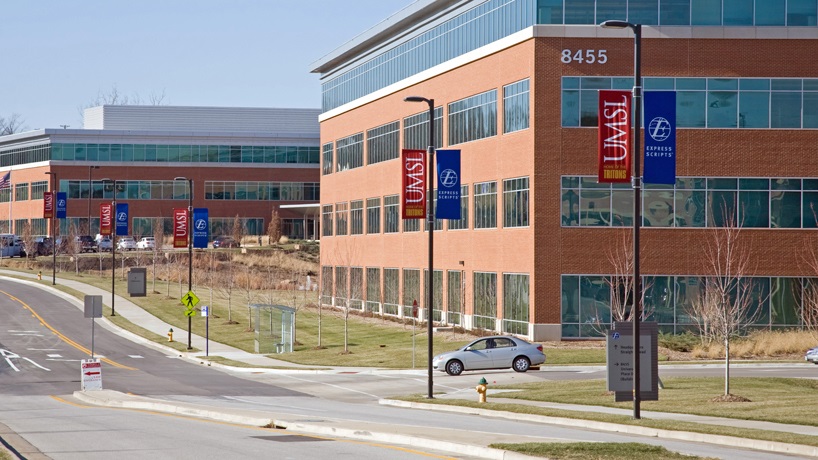 Express Scripts opened its corporate headquarters building on UMSL property in 2007 becoming the first Fortune 500 company headquartered on a university campus.
The region's main industries include aviation, biotechnology, chemicals, electrical utilities, financial services, beverage and food manufacturing, life sciences and medical research, plant sciences, refining, telecommunications, and transportation.
St. Louis is an important regional financial center. It is the home of the Federal Reserve Bank of St. Louis and of several national financial services and investment firms including Wells Fargo Advisors, Edward Jones, Scottrade, Reinsurance Group of America, and Stifel Financial Corp.  It is the operations center and a regional headquarters for MasterCard.
St. Louis is the home of a General Motors (GM) assembly plant and of Boeing's Defense, Space and Security unit, the second largest defense contractor in the world. The GM plant produces full-size vans and mid-size pickup trucks. The main products of Boeing's  plants in St. Louis are fighter aircraft and anti-ship missiles but a new facility will produce composite parts for their newest commercial jetliner.
Beverage and food production remain important industries in St. Louis. It is the North American headquarters of AB-InBev, the world's largest brewer, and their historic plant in St. Louis is one of the world's largest breweries. Post Holdings and Ralcorp Holdings both manufacture breakfast cereals, pasta, nut butters and other food products. Bunge North America is a trader of raw agricultural commodities and a producer of soy and canola oils for other food processors. Pet and animal food companies headquartered in St. Louis include Nestlé Purina PetCare, the largest pet food company in the U.S., Royal Canin USA, Solid Gold Pet Nutrition, United Pet Group, Nature's Variety, Whitebridge Pet Brands, and Novus International, a manufacturer of health and nutrition products for animals and aquaculture. In addition, the American Soybean Association and the National Corn Growers Association are located in St. Louis.
St. Louis is the headquarters of several major health management companies and health care providers. Express Scripts Holding Company is the largest pharmacy benefit management organization in the U.S. and Centene Corporation is a leading provider of management services to government healthcare programs. Also based in St. Louis are Ascension Health, the largest non-profit health system in the U.S. and the world's largest Catholic health system, and the Catholic Hospital Association of the U.S. (also with an office in D.C.) which is comprised of 600 hospitals.
The 2015 IndustryWeek U.S. 500 report on the largest publicly-traded manufacturers included these firms that are based in St. Louis: Emerson Electric, Monsanto, Energizer Holdings, Sigma-Aldrich Corp., SunEdison Inc., Post Holdings Inc., Belden, and Olin Corp. Nine St. Louis-based companies were included in the 2015 Fortune 500 list which ranked the biggest companies in the world by revenues: Express Scripts Holdings, Emerson Electric, Centene, Monsanto, Reinsurance Group of America, Peabody Energy, Jones Financial, Ameren, and Graybar Electric. In addition, ten other St. Louis companies are in the Fortune 1000: Energizer Holdings, Arch Coal, Sigma-Aldrich, Caleres, Panera Bread, SunEdison, Post Holdings, Belden, Stifel Financial, and Olin.   
To develop and attract high-technology jobs to St. Louis, local public and private organizations have cooperated in establishing research institutes, innovation centers and business incubators such as The Donald Danforth Plant Science Center, the Cortex Innovation Community of which UMSL is a partner, the Nidus Center and the BioResearch Development Park. Also, these efforts receive support from local venture philanthropy funds, such as Arch Grants, which provide capital and support services for innovative entrepreneurs. As a result of these efforts, Square, Inc., the mobile payment company based in San Francisco, recently opened a center in St. Louis to house IT development, support services, and compliance personnel. In 2018 Microsoft will open, in the Cortex community, a new regional office and Microsoft Technology Center, one of 40 such centers in the world.
Two large information technology companies based in St. Louis are: SAVVIS, which sells managed hosting and colocation services from more than 50 data centers in North America, Europe and Asia, and World Wide Technology, which provides IT products and solutions and operates throughout the world. 
St. Louis is the home of about one-third of the employees of the National Geospatial-Intelligence Agency (NGA) which collects, analyzes and distributes geospatial intelligence to support both combat operations and the U.S. national intelligence community. 
Scott Air Force Base, located near Belleville, Illinois, about 25 miles east of downtown St. Louis, is one of the area's largest employers with 5,100 civilian employees and 8,000 military employees. The base is part of the Air Mobility Command, the headquarters of the U.S. Transportation Command, and the base for several cybersecurity squadrons.
St. Louis is the third largest rail center in the U.S. and is served by six major railroads: Burlington Northern Santa Fe, Canadian National Railway, CSX, Kansas City Southern, Norfolk Southern, and Union Pacific. Also, the Port of Metropolitan St. Louis is the second busiest inland port in the U.S. in terms of tonnage and transports about 33 million tons of freight and commodities per year.
To facilitate international trade, there are two designated foreign trade zones and businesses can obtain services from the World Trade Center Saint Louis including international market research and business-to-business matchmaking.