Building the capacity of youth to succeed.
Master of Education in Counseling programs prepare professionals to work in educational settings – elementary, middle and high schools – as school counselors and in clinical settings – clinics, community mental health centers or private practice– as clinical mental health counselors. Counselors have professional preparation in the theory and practice of counseling, treatment planning and career development.
The College of Education counseling programs hold advanced accreditation by the Council on Accreditation of Counseling and Related Educational Programs. View the 2022 CACREP report.
Graduate Assistantships
The College of Education is currently accepting applications for prospective and current Education master's, specialist and doctoral students interested in a Graduate Research Assistant or Graduate Instructor position for the Fall 2024-Spring 2025 academic year. Please submit your application to be considered. Contact Alexandra Gresick at gresicka@umsl.edu with any questions.
Program type:
Graduate, MEd
Take the next step
Request more information below:
Loading...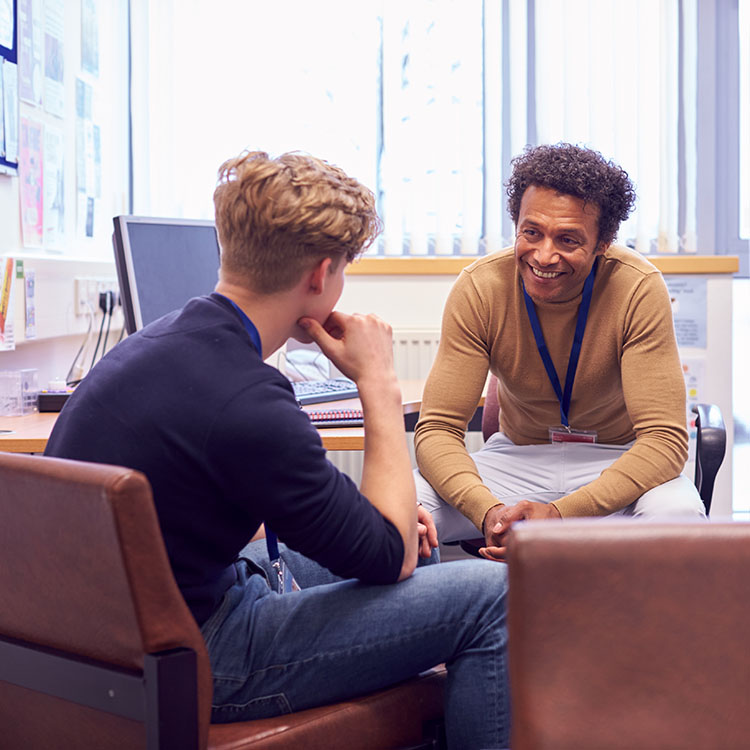 Overview
Master of Education in Counseling-
School Counseling Emphasis
The MEd in Counseling, emphasis in School Counseling prepares graduate students to work as school counselors. This 60-credit hour program leads to Missouri certification and eligibility for Missouri Licensed Professional Counselor and National Certified Counselor credentials and is approved by the Missouri Department of Elementary and Secondary Education.
Outcomes and Career Outlook
Through the program, students are trained to apply principles of learning, human development, counseling, research and measurement within school settings. Preparation is designed to enable students to deliver counseling services within schools and throughout their extended communities. About 90% of graduates pass the certification examand are gainfully employed in the field.
UMSL's program objectives describe student learning outcomes that all graduates of our programs should meet. These objectives reflect knowledge and projected counseling practice needs for counseling professionals in a diverse society. Upon completion of the program, graduates will be able to:
Demonstrate awareness and behavior consistent with an understanding and appreciation of diversity issues.
Apply helping relationship skills to establish therapeutic alliances and to achieve counseling goals with clients in diverse counseling settings.
Utilize counseling ethical standards to guide professional practice and ethical decision-making.
Assess client status and goals within relevant treatment contexts (e.g., school, clinic, community) and identify interventions based on research and best practice.
Identify and apply appropriate theories to conceptualize client cases and inform counseling practice to achieve therapeutic goals.
Articulate the ways in which mental health and career needs intersect for clients across the lifespan.
Use developmentally appropriate trauma-informed approaches to address the needs
of clients and systems.
Employment of school counselors is projected to grow up to 11% to 2029, with a median annual salary of $60,510, according to wage and employment data from the U.S. Bureau of Labor Statistics.
Employment growth by 2029
Admissions requirements include an earned baccalaureate degree from an accredited college or university with an overall grade point average of 3.0 or higher, a completed UMSL Graduate School Application, official transcripts from all colleges and universities attended, have two completed references on file, complete the supplemental application and upon admission will take CNS ED 6010, Theories of Counseling, in their first semester. 
Application Deadlines

Admissions are conducted twice a year, with application deadlines on March 1 and October 1 for the fall and spring semesters, respectively.
Download Program Requirements
Plan of study
Review Full Degree Requirements
Non-Missouri Residents: Prospective students are responsible for reviewing the NC-SARA state authorizations page to see if this program is offered in their state throughout their program and to review the licensure or certification requirements for the state in which they reside.
Student Organizations - Make new friends and learn new skills by joining one of our Recognized Student Organizations. 
Career Services – Students have access to professional career counselors who can assist in everything from resume development and interview preparation to lining up an internship or connecting you with your next fulltime career. UMSL alumni also enjoy high quality, lifelong career management programming, services, events and resources to assist in all phases of career development.
Networking – with the largest alumni network in the region, UMSL graduate students have access to leading professionals engaged in business, research, entrepreneurship, non-profit, government, community organizations. Our academic units engage this network in curriculum development to ensure our graduate students gain the skills needed to advance along their choose career path.
Research – There are many opportunities for graduate students to showcase their research including our annual Graduate Research Fair, which is open to students from all graduate programs. Doctoral and thesis master's students can also compete in the Three Minute Thesis challenge to be evaluated by a panel of judges for a chance to win cash prizes.