Get a chemistry degree designed around hands-on experience
Understanding chemistry means understanding the foundational building blocks of the world around us. With that knowledge, your career and educational opportunities multiply.
At the University of Missouri–St. Louis, you can earn a chemistry degree founded on hands-on learning and research experience, gaining an in-depth understanding of how chemistry is used in the real world.
When you major in chemistry, you can tailor your degree by choosing between a BS or BA. Our BA in chemistry prepares you for employment in the chemical industry or professional graduate degrees. The BS in chemistry prepares you to become a professional chemist or pursue an advanced chemistry degree.
Whether you select the BS or BA, you can expect to study in state-of-the-art labs, have opportunities to participate in faculty research projects and more.
One of the best-value chemistry majors in St. Louis
Our BS in chemistry is accredited by the American Chemical Society, setting us apart as the sole public university in the St. Louis area with this prestigious recognition. This distinction directly highlights the value we provide. With a cost-effective public education, you can attain a high-quality degree held in esteem by employers.
To make our major in chemistry even more accessible, we offer a flexible mix of daytime and evening classes, so you can fit your studies into your busy schedule.
Accelerated Program
The accelerated program is a unique dual degree program that provides a pathway for students to earn both a bachelor's and a master's degree in Chemistry with fewer total credit hours than would be required to complete each degree independently. Once all requirements have been met, students will be awarded both a BS and an MS and are able to enter the job market with a competitive edge
Program type:
Major, BA or BS
Format:
On-Campus, 100% Evenings
Take the next step
Request more information below:
Loading...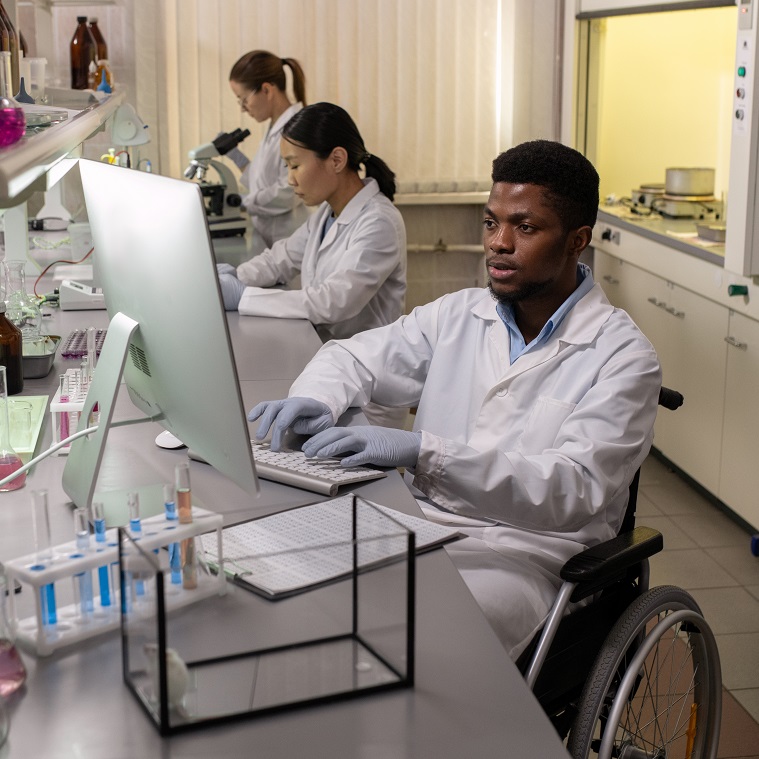 Why earn your chemistry degree at UMSL?
Pursuing a chemistry degree at UMSL means:
Hands-on coursework. Several upper-level chemistry classes involve lab work in state-of-the-art facilities.
Research opportunities. All students pursuing a BS or BA in chemistry have the opportunity to participate in research for credit. You can even work with a professor on their ongoing research projects, gaining real experience in the academic process.
Small class sizes. Many upper-level chemistry courses have 9–12 students, and a lab will never have more than 20 students.
An affordable degree. UMSL is the only place in the St. Louis area where you can get an ACS-accredited BS in chemistry at the price of a public university education.
Connections to local industry. The St. Louis area is a hub of chemical and life sciences companies – so much so that more than half of UMSL graduates with a major in chemistry work in the St. Louis area.
What can you do with a chemistry degree?
Upon completion of the Bachelor of Arts in Chemistry, graduates will be proficient in organic and physical chemistry. Graduates of the BS in Chemistry will be able to demonstrate a clear understanding of at least four of the five foundational areas of chemistry (analytical, organic, inorganic, physical and biochemistry).
People with a BS or BA in chemistry are in high demand – in fact, in 2022 the unemployment rate for chemists fell to 0.6 percent, according to the American Chemical Society. The U.S. Bureau of Labor Statistics states that the median annual salary for a chemist is $79,760.
A chemistry degree is a starting point for many careers in local industries. Common employers of UMSL chemistry graduates include: Boeing, Mallinckrodt, MilliporeSigma, Bayer Crop Sciences, Pfizer and Anheuser-Busch.
Many UMSL chemistry graduates also continue their education, pursuing advanced degrees in professional studies like public health or pharmacy, medicine or chemistry research.
Throughout the past five years, all UMSL graduates with a major in chemistry were either employed or pursuing an advanced degree within months of graduation.
Employment growth by 2031
Career Opportunities
Analytical Chemist
Business Development
Chemical Engineer
Chemical Sales and Marketing
Field Service Engineer
Industrial Manager
Instrumentation Specialist
Laboratory Manager
Preparative Chemist
Product Developer
Project Manager
Plan of study
All majors must meet the general education requirements of the university in addition to completing degree-specific curriculum requirements.
Student organizations
Make new friends and learn new skills by joining one of our Recognized Student Organizations. Here are several opportunities you may be interested in as a chemistry major:
Chemistry Club
Students of the University of Missouri
As a chemistry major, you'll have the opportunity to join the Chemistry Club, which arranges social gatherings and tours of local companies. The club also hosts an Undergraduate Research Symposium every April. Seniors can attend a weekly seminar with professional scientists to learn about their research and their career paths.
Honors College
The UMSL Honors College is a certificate program that can be paired with any major without adding extra classes or extending time to graduate. Classes in the Honors College are seminar-style, meaning that they are based in reading, writing, discussion, and critical thinking. This unique class format fosters an intellectual climate centered around democracy, diversity, civility and academic excellence.
Undergraduate research
We encourage and support students as they engage in exciting activities in and outside of the classroom that enrich their academic and professional understanding of their chosen area of study. All majors are encouraged to participate in Undergraduate Research and Scholarship to produce discipline-specific intellectual or creative innovations to their field.