Inspiring a new generation of scientists
Participation in scientific research can help young people learn problem-solving and analytical and quantitative skills. It can show them how to pay attention to details, how to improve their verbal and written communication skills and how to work in teams. It can also expose them to areas of study and career opportunities they never considered before.
The earlier students are exposed to research, the earlier they can start receiving those benefits.
That is why I am so proud that the University of Missouri–St. Louis sponsors numerous summer programs that give high school students in our region hands-on opportunities to participate in research under the supervision of experienced scientists.
For example, this summer there are 36 students from 15 area high schools taking part in the Students and Teachers As Research Scientists program, more commonly known at STARS.
This six-week program has a track record that dates to the late 1980s attracting some of the areas brightest students and fostering and developing their interest in STEM-based careers.
Participating students attend lectures from nationally-known scientists working in fields such as medicine, pharmaceutical development, plant science and computer science. They also receive help preparing for the college admissions process.
But the bulk of their time is spent working on a research project with mentors from UMSL as well as those at our partnering universities. They gather and analyze data and share their findings in a research paper and a presentation in front of mentors and peers. Past students have even had their work published in scientific journals.
The program will conclude with a confirmation ceremony featuring a keynote address by Dr. James Maher, professor of biochemistry and molecular biology at Mayo Clinic in Rochester.
Since 2015, through the leadership of Professor Patricia Parker, UMSL has also hosted the Collaborative Laboratory Internships and Mentoring Blueprint, known as CLIMB.
This six-week paid summer internship program began as a partnership with the Jennings School District to help high-ability but low-opportunity students experience working in a lab setting without having to sacrifice income from a summer job.
The program has since expanded to include students from the Ritenour, Riverview Gardens and University City school districts.
There are 10 students taking part in the CLIMB program this summer where they've been conducting research in an urban orchard while learning technical and analytical skills. These students will present their research at the conclusion of the six weeks alongside UMSL professors and graduate researchers. They also benefit from college financial planning and support during the admissions process.
The experiences these students have in both the STARS and CLIMB programs can help foster an early interest in scientific study that will remain with them as they move on to college and beyond. We look forward to tracking their success in the future as they eventually contribute to the growing STEM workforce in the St. Louis region.
Gratefully forward,
Kristin
---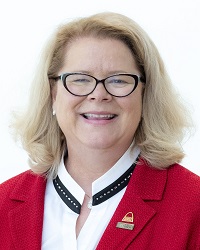 BY KRISTIN SOBOLIK
CHANCELLOR, UNIVERSITY OF MISSOURI–ST. LOUIS
Fostering an early interest in scientific study can help contribute to the growing STEM workforce