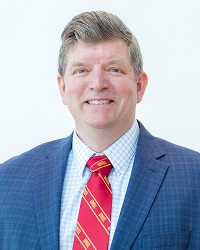 Dr. Scott D. Peterson, the University of Missouri–St. Louis' first gentleman, is an associate professor in the Department of English at UMSL.  Peterson has taught more than 30 years at the collegiate level engaging undergraduate and graduate students in courses ranging from American literature, to creative writing, to sport media, and working with students from across the country in Texas, Maine, Ohio and now Missouri. His goal is to inspire students to use their university experience to develop confidence and find the full extent of their abilities.  
Peterson combined his interests in sport literature, journalism and history to earn an interdisciplinary PhD in American Literature and Culture at the University of Maine after earning a master's degree in English with a creative writing concentration at Texas A&M University.  He has undergraduate degrees in psychology and English from the University of Iowa, and he spent two semesters at the University of Iowa Writing Workshop.
Peterson has published books on the development of nineteenth century baseball journalism and the history of Orono, Maine, as well as several articles about the cultural impact of baseball fiction by Ring Lardner, Ernest Hemingway and other sports journalists turned fiction writers. Since 2003, he has served as the fiction editor for Aethlon, the journal of the Sport Literature Association.  
Being first gentleman folds well into Peterson's interests to connect his research to the history and media of his current hometown. Students in his recent honors classes have conducted research studies into local ethical dilemmas and St. Louis sports folklore history. 
Peterson grew up in various Midwest towns, graduated high school in Iowa, and met Kristin Sobolik at the University of Iowa when they were undergraduate students there. They married the week after graduation and now have four grown children, Nathaniel, Nicholas, Emma Layne, and Veronika. Peterson enjoys reading, writing fiction and watching sports—especially St. Louis Cardinals baseball games – or what he calls 'field research.'