Testing Center Information for Faculty
The Testing Center supports faculty by providing proctoring for exams that cannot be administered in the classroom setting:
online and blended course exams
classroom accommodative exams
classroom makeup exams
departmental placement, test-out, or exit assessments 
 Submitting an Exam to the Testing Center
If your course uses SmarterProctoring, the only thing you need to do is enable the "Institution Testing Centers" setting. SmarterProctoring will automatically redirect students to our registration site, RegisterBlast. Please be sure to direct your students to schedule through SmarterProctoring in Canvas. Since it is integrated with RegisterBlast, faculty do not need to submit the test directions to the Testing Center separately.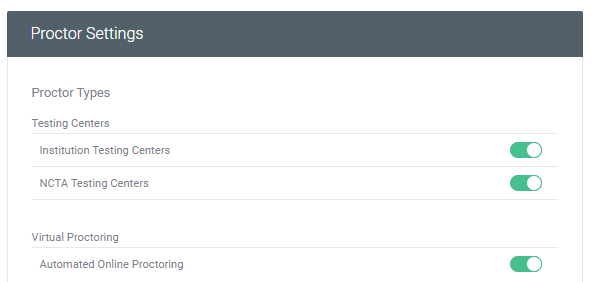 Here is a pdf handout with directions for students! 
Exam Conversion Service
To help faculty pivot to online, the Testing Center is offering assistance to convert paper-based exams to Canvas Quizzes. Interested faculty may submit the Exam Conversion for Canvas form. 
Testing Center Faculty Policies
Accommodative Exams: The Office of Disability Access Services is solely responsible for determining if a student is eligible to receive special accommodations on quizzes and exams. Students will provide faculty with a DAS faculty memo at the beginning of the semester and schedule their exams in the Testing Center accordingly.
Homework & Graded Exams: The Testing Center does not distribute nor accept homework assignments, review sheets, or return graded exams to students. Completed paper exams are uploaded and shared with faculty in Google Drive.
Open-Resource Exams: Students may not use personal devices to access ebooks, notes, or any other supplemental resource.
Oral & Listening Exams: The Testing Center can typically administer exams with listening components, but does not have the capacity to support the administration of oral exams. 
Whole-Class Testing: Although it has been our policy to not support whole-class testing for courses that are not completely online, we will do our best to accommodate whole-class proctored exam requests as space allows. This is an option for exams that are difficult to replicate in Canvas or other online courseware, such as exams that require drawing, use of mathematical symbols, etc. Please contact Sarah Butler at butlersr@umsl.edu as soon as possible to discuss this possibility. Please note that we cannot bring an entire class in for one sitting, but this could be possible with a testing window. Please allow at least two (2) weeks' notice and thank you for being flexible if we are unable to meet the request.
Zoom Proctoring: At this time, the Testing Center does not remotely proctor exams over Zoom or any other video conferencing service.