Establish and enhance socially important behaviors.
Board Certified Behavior Analysts (BCBAs) are professionals who study the behavior of children and adults and create plans to improve their quality of life. They use behavior analysis, a scientific approach to understanding and modifying patterns of behavior. BCBAs work in a variety of settings including, but not limited to, classrooms, hospitals, residential facilities, clinics and organizations. While working with people with developmental disabilities, BCBAs focus on improving behaviors such as social skills, communication, reading and academics as well as adaptive learning skills such as fine motor dexterity, hygiene, grooming, domestic capabilities, punctuality and job competence to establish and enhance socially important behaviors. 
Program type:
Graduate, MS
Take the next step
Request more information below:
Loading...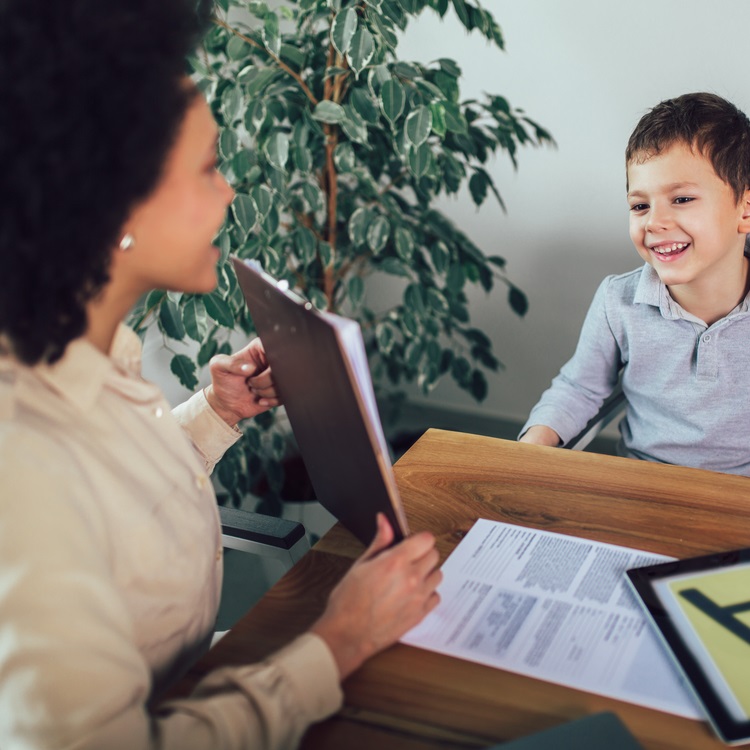 Degree Overview
Master of Science, Applied Behavior Analysis
The MS in Applied Behavior Analysis prepares students to engage in the science of behavior analysis as BCBA practitioners and field leaders in schools and agencies to achieve meaningful change for the individual in their community. This program is approved by the Association for Behavior Analysis International and accepted by the Behavior Analyst Certification Board® Inc. 
This 39-credit hour, online graduate program may be completed in two years and meets the requirements necessary to be eligible to sit for the national BCBA examination, leading to the national Board Certified Behavior Analyst® certification. Upon completion of the MS in Applied Behavior Analysis, graduates will be well prepared to sit for the national BCBA certification examination.
Outcomes and Career Outlook
Given the shortage of licensed behavior specialists throughout the St. Louis region and beyond, there is an enormous need for high-quality BCBAs to fill an estimated 20,000 new jobs in Missouri, Illinois and Kansas over the next decade. 
Employment of the field as a whole is projected to grow up to 19% through 2024, with a median annual Applied Behavior Analyst salary of $64,397, according to wage and employment data from the Bureau of Labor Statistics and Payscale.com.
Employment growth by 2024
Career Pathways
Board Certified Behavior Analyst
Application Deadlines
For domestic applicants: Fall admission: July 1
For international applicants: Fall semester: May 1
We only admit students in the Fall semester. While there are an application deadline, the sooner you apply for admission to the Graduate School and have your transcripts sent to UMSL, the more likely you will be admitted in time to register for courses with the best selection of days, times, and locations.
Admissions Requirements
The College of Education follows Graduate School policies relating to admissions, academic standards, residency, transfer credit, time limitations, and thesis options.
A completed application
Official transcripts from all universities attended

Successful applicants must have completed a baccalaureate degree before beginning the master's program.

Entrance examinations

The Graduate Record Examination (GRE) General Test is not required but may add value to the application.
International students are required to document English proficiency by providing scores from an internationally accepted standardized examination before a decision is made on admission. Visit International Admissions for more information.

Grade Point Average Minimum of 2.75 on 4.0 scale.
Plan of Study
Review Full Degree Requirements
Non-Missouri Residents: Prospective students are responsible for reviewing the NC-SARA state authorizations page to see if this program is offered in their state throughout their program and to review the licensure or certification requirements for the state in which they reside.
Student Organizations – UMSL is home to more than 100 student organizations with many serving graduate students. This includes graduate organizations in business, creative writing, psychology, biology and more in addition to graduate honors societies and student veterans organizations.
Career Services – Students have access to professional career counselors who can assist in everything from resume development and interview preparation to lining up an internship or connecting you with your next fulltime career. UMSL alumni also enjoy high quality, lifelong career management programming, services, events and resources to assist in all phases of career development.
Networking – with the largest alumni network in the region, UMSL graduate students have access to leading professionals engaged in business, research, entrepreneurship, non-profit, government, community organizations. Our academic units engage this network in curriculum development to ensure our graduate students gain the skills needed to advance along their choose career path.
Research – There are many opportunities for graduate students to showcase their research including our annual Graduate Research Fair, which is open to students from all graduate programs. Doctoral and thesis master's students can also compete in the Three Minute Thesis challenge to be evaluated by a panel of judges for a chance to win cash prizes.