Ensure the youngest children get a head start.
The impact of early learning experiences for young children is far-reaching. Help young children discover their worlds. Employment opportunities can be found in both public and private institutions with missions that focus on the youngest learners or in any organization interested in young children and their learning.
Format:
On-Campus, 100% Online
Take the next step
Request more information below:
Loading...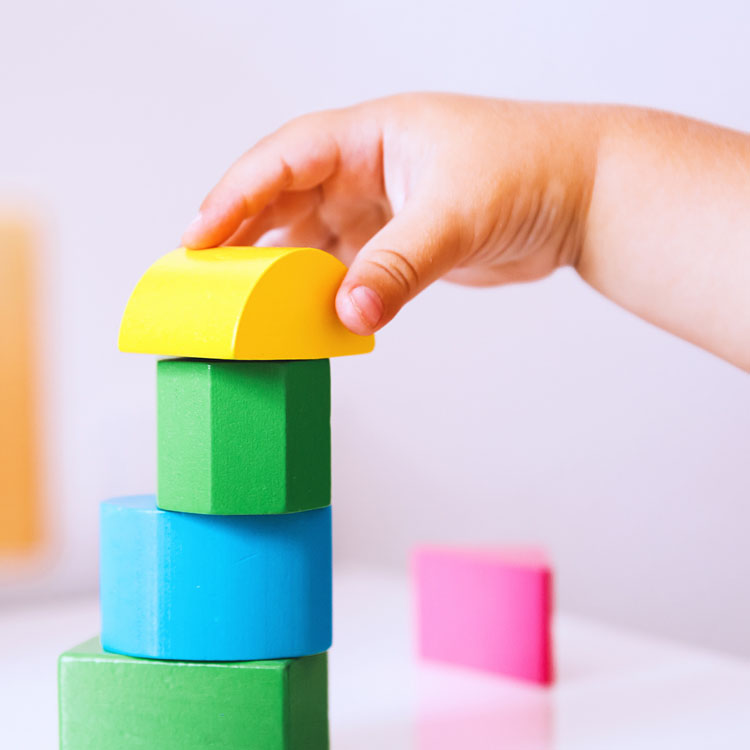 Overview
Bachelor of Educational Studies -
Early Childhood Emphasis
The BES, with an emphasis in Early Childhood, is perfect for students excited about education, but looking for challenges outside a traditional classroom. The BES will prepare you for a career as an educator in agencies and institutions that emphasize informal learning in different settings. This degree is designed to be a creative, flexible, and inter-disciplinary bachelor's degree that emphasizes practical skills in multiple settings.
Students gain skill and insights that can be applied to roles as educators, managers and directors, program planners and curriculum developers. This degree program does not lead to Missouri teacher certification.
Outcomes and Career Outlook
Upon completion of the program, graduates will be able apply a unique understanding of social justice by addressing institutional and social barriers that limit access, equity and achievement; conduct themselves in a respectful and professional manner that views failure as an opportunity to learn; apply reasoning and critical thinking while making connections among information, data and arguments to synthesize and interpret information; apply unique leadership, management and communication skills using oral, written, nonverbal and visual communication skills in a variety of formats and contexts; apply knowledge and skills to effectively manage early childhood programs; and demonstrate a unique application of best practices when teaching young children.
Employment of child care providers is projected to grow up to 9% to 2029, with a median annual salary of $48,441, according to wage and employment data from the U.S. Bureau of Labor Statistics and Payscale.com.
Employment growth by 2029
Career Opportunities
Logistics Manager

After School Program Director

Child Care Director

Child Care Manager

Child Care Provider

Curriculum Developer
Plan of study
General Education Requirements
Students follow the University's General Education Requirements, Mathematical Skills, Advanced Expository Writing, American History and Government, and Cultural Diversity Requirements. Due to prerequisites of required courses all students must take PSYCH 1003 and POL SCI 1100. Students pursuing the Exercise Science emphasis area must take BIOL 1012, BIOL 1013, and MATH 1030.
Foundations (Required Courses)
TCH ED 1001
Early Clinical Experience: Community Agency
1
TCH ED 2000
Becoming a Professional Educator
1
EDUC 2002
Social Entrepreneurship
3
EDUC 2222
Interpretation: Connecting Audiences and Meaning
3
ED PSY 2212
  or or CNS ED 3200
Child and Adolescent Development
Interpersonal Skills in Helping Relationships
3
PHY ED 2136
Facilities Management
3
EDUC 3170
Grant Proposal Writing for Educators
3
ED FND 3251
Black Americans in Education
3
THEATR 3362
Storytelling
3
MKTG 3721
Introduction to Digital Marketing Strategies
3
ED TECH 4302
  or ED TECH 4436
Educational Technology Instruction in Educational Agencies
Computer-Mediated Teaching and Learning in Education
3
ED FND 4330
History of American Education through the Lens of Social Justice
3

Total Hours

32
Required Courses
ECH ED 3302
Introduction to Inclusive Early Childhood Education
3
ECH ED 3303
Curriculum and Practice Laboratory: Infant/Toddler
1
ECH ED 3304
Curriculum and Practice Laboratory: Preschool
1
ECH ED 3313
Curriculum and Practice: Infant/Toddler
2
ECH ED 3314
Curriculum And Practice: Preschool Education
2
ECH ED 3332
Literacy, Learning and Instruction For The Young Child
3
ECH ED 3350
Family and Professional Partnerships within School/Community
3
ECH ED 4317
Implementation, Evaluation, and Assessment in Early Childhood Education
3
SPEC ED 3318
Inclusive Classrooms
3

Total Hours

21
Clinical Experiences
| | | |
| --- | --- | --- |
| EDUC 4989 | Internship I | 3 |
| EDUC 4990 | Internship II | 6 |
| EDUC 4991 | Internship III | 6 |
Suggested Courses
MEDIA ST 2211
Introduction to Digital Multimedia Production
3
MEDIA ST 2222
Convergence and Digital Media
3
MGMT 3600
  or SOC 3600
Management and Organizational Behavior
Management and Organizational Behavior
3
SOC WK 2000
Social Work and Social Issues
3
HLTH PE 3380
Introduction to Nutrition for Health and Performance
3

Total Hours

15
All majors must meet the general education requirements of the university in addition to completing degree-specific curriculum requirements.
Review Full Degree Requirements
Non-Missouri Residents: Prospective students are responsible for reviewing the NC-SARA state authorizations page to see if this program is offered in their state throughout their program and to review the licensure or certification requirements for the state in which they reside.
Student organizations
From leadership, to cultural, to just plain fun, Recognized Student Organizations at UMSL make it easy to get involved. Students who join RSOs make new friends, learn new skills, and perform better in classes. Plus, with over 120 student organizations on campus, there's something for everyone! You might like:
Internship opportunities
The College of Education hosts many centers and initiatives that enhance student experiences in our programs and work with more than 36 different public, private and charter schools throughout the region. We also sponsor eight charter schools.
Honors College
The UMSL Honors College is a certificate program that can be paired with any major without adding extra classes or extending time to graduate. Classes in the Honors College are seminar-style, meaning that they are based in reading, writing, discussion, and critical thinking. This unique class format fosters an intellectual climate centered around democracy, diversity, civility and academic excellence.
Undergraduate research
We encourage and support students as they engage in exciting activities in and outside of the classroom that enrich their academic and professional understanding of their chosen area of study. All majors are encouraged to participate in Undergraduate Research and Scholarship to produce discipline-specific intellectual or creative innovations to their field.