January 9, 2020 - Monthly Message to the UMSL Community
Dear UMSL Community,
As we embrace the beginning of a new year, I'm thrilled to be back on campus to witness the fresh energy and preparations for the start of the spring semester.
I have to begin by congratulating the more than 1,400 students who officially became alumni in December when they crossed the stage at our Fall Commencement. Nothing makes me happier than the opportunity to participate in their celebration and to witness firsthand the culmination of so much hard work and sacrifice. It is truly one of my favorite duties as your interim chancellor and provost.
Seeing so many success stories inspires me to continue to build upon and reinforce our commitment to those successes.
As I was reminded at commencement, a successful student here at UMSL means so many different things. From the ability to graduate on time with minimal debt to the opportunity to network, make connections and feel at home in a welcoming campus environment, from the meeting of academic needs to the availability of personal support and resources, the journey to success is complex and multifaceted. That's why it's so important that each of us – in our individual and collective roles – remain focused on supporting the retention of our students from start to finish. 
I'm proud of the work we've done on behalf of our students and am encouraged by the work of our Student Success Task Force to create a campus culture that prioritizes student success. I hope you'll join in my enthusiasm for keeping up this most important work. Here's to a new year and a new semester of progress!
Gratefully forward, 
Kristin Sobolik
Interim Chancellor and Provost
---
Notes of Note
The Academy of Science – St. Louis has recognized Alexei Demchenko, Curators' Professor of Chemistry and Biochemistry, with a 2020 Outstanding Scientist Fellows Award. Demchenko, who joined UMSL in 2001, is a carbohydrate chemist specializing in synthetic methods that can produce complex molecules in quantities adequate for biological studies needed to advance drug development.
Join us for the Dr. Martin Luther King, Jr. Holiday Observance on January 20 at 10 a.m. at the Touhill Performing Arts Center. The event will feature Dr. Marc Lamont Hill, Jasmine Huda, Brian Owens and the St. Louis Children's Choirs. You can also register to volunteer during the 12th Annual MLK Day of Service.
The Spring Involvement Expo will be held January 22 and provides an excellent opportunity for student organizations and campus departments to showcase their outreach and services to new and returning students as a way to encourage engagement in their areas of interest.
The newly announced Missouri Center for Transportation Innovation will bring together researchers from each of the UM System's four universities with MoDOT to maximize the impact of state-funded transportation research. Jill Bernard Bracy, associate director of the UMSL Center for Transportation Studies, will lead UMSL's involvement in the center as a member of the center's operations cabinet.
---
Headlines from UMSL Daily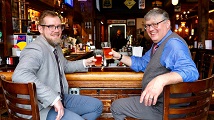 Cheers to 2019: A look back
These stories highlight the efforts and achievements of students, alumni, faculty and staff throughout the past year and reflect UMSL's impact on the lives of individual students and the Triton community.
Taylor Milon writes her story in service, leadership, connections
Communication major and December-graduate Taylor Milon's time at UMSL was marked by her passion for service and involvement.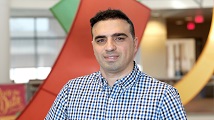 Former Green Card Lottery winner earns master's degree in economics
Ehsan Davarzany, a native of Iran, overcame a language barrier and financial challenges to achieve his educational goals in the United States.
Curators' Distinguished Professor untangles literacy and power
Over her 13-year UMSL career, Rebecca Rogers has helped make critical discourse analysis more accessible for public intellectuals.