November 4, 2019 - Monthly Message to the UMSL Community
Dear UMSL Community,
Just two weeks ago, we celebrated the inaugural UM System Engagement Week as an opportunity to highlight the impact our universities make throughout our communities. It was truly inspiring to see the many ways our UMSL students, faculty and staff engage in the broader St. Louis community and work to improve the region every day. And while our greatest contributions are felt right here at home, it's important to remember that UMSL also has an extensive global reach.
That reach extends, for example, more than 7,000 miles across the North Atlantic Ocean to the Gulf University for Science & Technology in Kuwait. For nearly 20 years, UMSL has worked side-by-side with GUST to establish the first modern university in Kuwait – building academic programs of excellence as well as a dual enrollment program for our students. This week, I am honored to travel to GUST where I've been invited to speak to graduating students on behalf of UMSL. This partnership is exciting not only because it illustrates how our mission to transform lives spans the globe, but also because it's a reminder of what individual educational journeys can do.
Here at UMSL we put a lot of focus – as we should – on the very real impacts of acquiring a career post-graduation, changing economic trajectories and fostering social mobility. But it's nice to remember that education can do more than that, too. Sometimes, especially when institutions and individuals come together with combined efforts, education provides opportunities to reach across time, space, cultures and differences.
To build bridges. To do good. To make positive change.
I am so thankful to be a part of this. And I'll be just as thankful to return home and continue the important work we do in our own community as well.
Gratefully forward, 
Kristin Sobolik
Interim Chancellor and Provost
---
Notes of Note
UMSL Day: Our fall UMSL Day Open House is this Saturday, November 9, where hundreds of prospective students and their families will join us to explore the exciting opportunities at UMSL. Thank you to the many students, faculty and staff who will be on hand this weekend to showcase our campus and academic programs. It's not too late to register, so encourage your friends and neighbors to attend.
Best for Vets: For the sixth year in a row, UMSL has made the list of "Best for Vets" Colleges by Military Times — a fitting recognition ahead of our Veterans Day celebration. In fact, UMSL is the No. 1 ranked four year university in Missouri. That demonstrates our commitment to the success of our more than 400 military and veteran students.
Common Read Feedback: UMSL completed its inaugural Common Read program last month and we would like to ask for your feedback. Please take a moment to complete a 5-minute survey to help us plan for next year.
Engagement Portal: A new UM System Engagement Portal was launched last month to highlight engagements and partnerships of each of our universities. The portal also includes an Impact Report section with valuable information at the county, district and state levels. 
Board of Curators: UMSL will host the final University of Missouri Board of Curators meeting pf the year on November 21 at the Millennium Student Center. This meeting is open to the public and will also be live-streamed at www.umsystem.edu.
---
Headlines from UMSL Daily
UMSL student-athletes exceed national averages
Tritons student-athletes have posted a four-year Federal Graduation Rate of 62 percent and an Academic Success Rate of 83 percent, both exceeding national averages.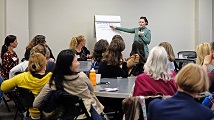 Women support women with launch of new faculty network
The inaugural meeting of the UMSL Women's Faculty Network brought together nearly 100 attendees in an effort to connect and empower women faculty.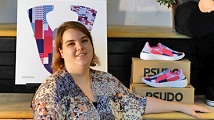 UMSL design students kick it with local sneaker startup
Local shoe company Psudo challenged the students to create custom designs, and it is turning Leah Gornet's winning entry into a limited-edition sneaker.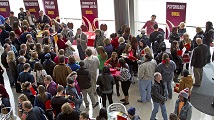 Five reasons to come to UMSL Day
Open to any prospective undergraduate student – first-time freshman, transfer or returning – UMSL Day showcases what the university has to offer.