Andrew Black 

Teaching Professor
555 Lucas | 516-6199 | ablack@umsl.edu | C.V.

Andrew Black is a Teaching Professor in the Department of Philosophy at UMSL. He joined the department in 1999. Before coming to UMSL, Professor Black taught for eight years at Southern Illinois University at Carbondale, and one year at Dartmouth College in New Hampshire. He received his B.A. from the University of London and his Ph.D. from the University of Massachusetts. He teaches in the history of philosophy, philosophy of science and logic. He has published articles on seventeenth century philosophy and epistemology; he is co-author of "The Elements of Reasoning" (5th edition, Wadsworth 2007), and is author and presenter of a television video series "Great Philosophers" (aired on the Higher Education Channel - channel 26). He is currently writing a book introducing the philosophy of science for science teachers, and researching the philosophy of Leibniz. Professor Black was born in England, and moved to the U.S.A. in 1985.
Jill Delston 

Assistant Teaching Professor
567 Lucas | 516-6198 | delstonj@umsl.edu | C.V.

Jill Delston has interests in social and political philosophy, normative ethical theory, applied ethics, and ancient Greek philosophy. Her dissertation defends a theory of global justice that combines social contract and natural law elements and applies it to international legal and soft law systems like anti-money laundering and combating the financing of terrorism. Before joining the department in 2012, she was visiting assistant professor of philosophy at Mount Holyoke College for the 2011 academic year. She is the co-editor of a textbook entitled Applied Ethics: A Multicultural Approach (Ed. 5) for which she contributed to chapters on hunger and poverty, race and ethnicity, and the environment. She received her B.A. in Liberal Arts from St. John's College in Annapolis, Maryland and her M.A. and Ph.D. in Philosophy from Washington University in St. Louis. 
Billy Dunaway 

Assistant Professor
553 Lucas | 516-6195 | dunawayw@umsl.edu | website
Billy Dunaway received his PhD from the University of Michigan in 2013. He held a postdoctoral research fellowship at the University of Oxford for two years before joining the UMSL faculty in 2015. He works on various topics in ethics, metaphysics, epistemology, and the philosophy of language. These include: the fundamentality of ethical facts, practical reasoning and vagueness in ethics, and the relationship between the grounds of ethical facts and what we can know about them. 

His papers have appeared in Philosophical Studies, Oxford Studies in Metaphysics, Australasian Journal of Philosophy, Philosophical Perspectives, Philosophy and Phenomenological Research, and Oxford Studies in Metaethics, among other places.  
David Griesedieck 

Teaching Professor
552 Lucas | 516-6190 | davidgr@umsl.edu | C.V.

David Griesedieck, born 1943, earned his BA from St. Benedicts College (Kansas)in 1964 and his MA in philosophy from Princeton (1967) and MA in mathematics from UMSL (1988). He has been a member of the UMSL Department of Philosophy since Fall 1970. My chief scholarly interest has always been the study of Oriental philosophy in its various forms. It is a tremendous challenge to try to bring out the meaning of these ancient philosophical texts. The subject matter and the methodology are often quite different from what we are used to in Western philosophy. I believe that if one can get a clear idea of just what is so different about Indian or Chinese philosophy, one will then have an insight into the most basic questions of philosophy and life. For example, by studying Eastern conceptions of freedom and bondage, we can gain new and decisive perspectives on the classic Western problem of freedom of the will.
Jon McGinnis is a Greco-Arabist who also has interest in medieval Latin science, philosophy and theology. He received a M.A. in Church History from the University of North Texas (1991) and a Ph.D. in Philosophy from the University of Pennsylvania (2000), where he worked jointly in the Department of Philosophy and the Center for Middle Eastern Studies. As a graduate student he was a research fellow at Harvard University in the Department of the History of Science, as well as a Fulbright scholar to Egypt. Since coming to UMSL, he has received numerous grants and fellowships from such organizations as the University of Missouri Research Board Award, the National Endowment for the Humanities, the Andrew Mellon Foundation as well as having been a member at the Institute for Advanced Study in Princeton. He is currently the Secretary-Treasurer of the Society for Medieval and Renaissance Philosophy. In addition to numerous articles and chapters on various aspects of ancient and medieval physics and metaphysics, he is the author of Avicenna (Oxford University Press), translator and editor of Avicenna's The Physics of the Healing (Brigham Young University Press) and, with David C. Reisman, translator of Classical Arabic Philosophy: An Anthology of Sources (Hackett). All in all, Jon thinks that life is pretty good, but better with a cup of coffee.
Lauren Olin 

Assistant Professor 
549 Lucas |
 516-6194 
|
olinl@umsl.edu
|
Website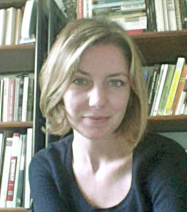 Lauren Olin's research is located squarely in the philosophy of cognitive science, though many of the questions she engages may readily be called ethical or epistemological.  Her current interests involve both theoretical and empirical research on patterns of evaluative judgment, psychopathology, and epistemic dispositions.  She has authored or co-authored papers for journals such as Philosophical Studies,Synthese, Transcultural Psychiatry, and Philosophy Compass. Lauren earned her BA in Philosophy from McGill University in Montreal, and her MA and PhD from the Philosophy-Neuroscience-Psychology program at Washington University in St. Louis.

Gualtiero Piccinini works primarily in philosophy of mind, with an eye to psychology, neuroscience, and computer science. His main current interests include computational theories of mind, the relation between psychology and neuroscience, consciousness, and intentionality. In 2003, he graduated from the department of History and Philosophy of Science at the University of Pittsburgh. Between 2003 and 2005, he was a James S. McDonnell Post Doctoral Research Fellow in the Philosophy-Neuroscience-Psychology Program at Washington University in St. Louis. Since 2005, he has been a member of the Philosophy Department at the University of Missouri - St. Louis. Prof. Piccinini's articles have been published in Philosophy and Phenomenological Research,Philosophy of Science, Australasian Journal of Philosophy, Philosophical Studies, Neural Networks, Synthese, Canadian Journal of Philosophy, Studies in the History and Philosophy of Science, Journal of Consciousness Studies, and Minds and Machines.
Waldemar Rohloff 
Associate Teaching Professor and Director of Undergraduate Studies 
568 Lucas | 516-6192 | rohloffw@umsl.edu | C.V. | Website

Waldemar Rohloff received his Ph.D. in 2007 from the Department of Logic and Philosophy of Science at the University of California, Irvine. 
His main interests are in the philosophy of science and mathematics and the history of modern philosophy. He regularly teaches courses on logic and on the history of philosophy.
Stephanie "Taffy" Ross 

Professor 
551 Lucas | 516-5634 | sross@umsl.edu | C.V.

Stephanie Ross received her B.A. from Smith College in 1971 and her Ph.D. from Harvard University in 1977. Most of her research focuses on issues in the philosophy of art. In addition to a book on garden aesthetics, What Gardens Mean (University of Chicago Press, 1998), she has published articles on a range of topics including allusion, modern music, women and fiction, musical conducting, the death of art, landscape appreciation, and aesthetic qualities. She has also contributed invited encyclopedia entries and handbook articles on such topics as expression, the picturesque, and artistic style. Taffy's present project is a book - tentatively titled "Two Thumbs Up: How Critics Aid Appreciation" - that will propose a neo-Humean account of our transactions with works of art. The book will explore the nature of critical disagreement and the prospects for realism in aesthetic by taking up questions like these: If you encounter a work of art and deem it to be amusing, colorful, bombastic, and original, does the work possess each of these qualities? Does it possess them in the same way? Can you convince others that this is the case? Is there a right way to appreciate each work of art? Are there experts who can guide us in these matters? What reason might we have to follow their advice? How should we seek them out? Might most of us manage only partial or imperfect appreciation of the art we encounter?
Eric Wiland 

Associate Professor & 

Director of Graduate Studies


561 Lucas | 516-5495 | wiland@umsl.edu | C.V. | Website

Eric Wiland (University of Chicago, 1997) works primarily on topics in ethics and practical reason. He investigates problems in practical philosophy by thinking about people who have various cognitive and motivational flaws, especially those who recognize that they have such flaws.
Emeritus Faculty
Robert Gordon 

Professor Emeritus 
gordonr@umsl.edu
Robert Gordon (Ph.D., Columbia) works primarily in philosophy of mind, cognitive science, and moral psychology. For his Master's degree he specialized in Medieval and Renaissance philosophy, with a thesis on Nicholas of Cusa. His doctoral dissertation was in ethics and metaethics, on universalizability and analogy in moral arguments.
While teaching at the University of Wisconsin, Gordon shifted to the topic of emotions, a part of the philosophy of mind. He was one of the earliest philosophers to develop a theory that emphasized the cognitive content of emotions, particularly the types of beliefs and other mental states that cause various emotions. His work on the topic was published in Philosophical Review, American Philosophical Quarterly, Analysis, Journal of Philosophy, and other journals, culminating in his book, The Structure of Emotions (Cambridge University Press, 1987).

Gordon's current focus is on developing the simulation theory, which he introduced in 1986 and developed further in numerous articles since then. The theory holds that we understand other human beings by mentally simulating them -- that is, by generating the same sorts of brain processes that guide our own behavior. Of course, we're not all in the same situation, and we're not all psychologically alike. That's where the sorts of processes that underlie pretending and imagining have to come into play, so that we can "put ourselves in another's shoes." 
The theory has been the topic of numerous books and articles by philosophers and psychologists, and several conferences, symposia, and workshops in the US and abroad. Although it was initially developed as an alternative to prevailing philosophical theories of our commonsense "folk psychology," Gordon applied it also to some experimental results concerning children's understanding of mind and behavior -- and the apparent lack of understanding on the part of people with autism. Subsequently the theory has become one of the two or three chief contenders in developmental psychologists' research on "the child's theory of mind."
Gordon has held research fellowships from the National Endowment for the Humanities and the American Council of Learned Societies. In 1999 he directed an NEH Summer Seminar for College and University Teachers. He has taught at the University of Wisconsin and the University of Florida, and was visiting professor at the University of Helsinki.
Ronald Munson 

Professor Emeritus
557 Lucas | 516-5631 | munson@umsl.edu | C.V.

Ronald Munson received his Ph.D. from Columbia University and was a Postdoctoral Fellow in Biology at Harvard University. He taught as a Preceptor in Philosophy at Columbia College (Columbia University) and has been a Visiting Professor at the University of California, San Diego, the Harvard Medical School, and Johns Hopkins University School of Medicine. He has served as bioethicist for a National Institutes of Health multicenter study, the National Cancer Institute, the Monsanto Recombinant DNA Advisory Committee, and the Washington University School of Medicine Human Subjects Committee. His expertise is in medical ethics and the philosophy of science and medicine. His articles have appeared in Philosophy of Science, British Journal for the Philosophy of Science, History and Philosophy of Science, Journal of Medicine and Philosophy, Kennedy Institute of Ethics Journal, and New England Journal of Medicine. His work has also been anthologized numerous times. He has been awarded grants by the National Endowment for Humanities, the Weldon Spring Fund, and the National Science Foundation. His book Intervention and Reflection: Basic Issues in Medical Ethics (Wadsworth), now in its 7th ed., is the most widely used medical ethics text in the United States. His other books include Reasoning in Medicine: An Introduction to Clinical Inference (with Daniel Albert, M.D. and Michael Resnik, Ph.D., Johns Hopkins), The Way of Words (Houghton-Mifflin), Man and Nature: Philosophical Issues in Biology (Delacorte), Elements of Reasoning, 5th ed. (with Andrew Black, Wadsworth). His most recent books are Outcome Uncertain: Cases and Contexts in Bioethicsand Raising the Dead: Social and Ethical Issues in Organ Transplantation (Oxford University Press). He has acted as a source on biomedical ethics and been interviewed by (among others) the New York Times, Washington-Post, U.S. News and World Report, St. Louis Post-Dispatch,Science Digest, Smithsonian Magazine. He has appeared on ABC Evening News, ABC Morning News, Today Show, Fox News Network, Brian Williams and the News, NBC National Radio, NYC Radio, National Public Radio, and BBC Radio. He consulted on the ethical aspects of gene therapy for Japanese National Television. Ronald Munson is the author of three well-received novels: Nothing Human (Pocket Books Hardcover; Pocket Books, paper; British Edition published by Simon and Schuster, Ltd.); Literary Guild Alternate Selection, Selection of the Doubleday Book Club and the Mystery Guild; translated into Swedish and German; optioned for film; Fan Mail (Dutton; Discus, paper); Book of the Month Club Alternate Selection; starred review in Publisher's Weekly; translated into German, Japanese, Dutch, and French; made into a German radio play; optioned for film. Night Vision (Dutton; Signet, paper); translated into Dutch, Swedish, and German. Interviews and reviews have appeared in such places as People, Los Angeles Times, St. Louis Post-Dispatch, and the Miami Herald, as well as on CNN, Unsolved Mysteries, and Aspecta (German National Television).
Affiliated Faculty
Keith Miller 

Orthwein Endowed Professor for Lifelong Learning in the Science

Wally Siewert 

Assistant Professor and Director, Center for Ethics and Public Life