December 5, 2019 - Monthly Message to the UMSL Community
Dear UMSL Community,
As this semester nears its end and we close out the year, there is no more fitting time to share my gratitude and reflect on all that we've accomplished together.
Every day there's another reason to be #UMSLproud. This past year has ushered in tremendous growth and opportunity. I'm proud of the reaccreditation we deservedly earned together at the start of this year, for our inclusion in the inaugural list of the Top 100 universities who advance social mobility and for the creation of six new degree programs to meet student and industry needs.
Just this week I recognized a record number of student-athletes who earned a GPA of 3.5 or above during the basketball conference opener against Lindenwood. Our student-athletes are winners in both the classroom and in competition. In fact, our women's volleyball team is returning to the NCAA Tournament today for the first time since 2010. Our softball team won the program's fifth GLVC Tournament championship this past season and their coach, Amanda Scott, was named GLVC Coach of the Year. Our women's and men's golf teams are both coming off top-15 finishes nationally. We've also brought new teams to our roster with the addition of men's and women's track and field and cross country, increasing our varsity sports to 19. And a big shout-out to Magnus Andersen from our men's soccer team who has just been named a First Team Academic All-American, only the seventh in our history.
The success of our intercollegiate athletics program is just one of many areas where our university excels. Most notably and most importantly, we excel at supporting students from start to finish on their pathway to a degree. Next weekend, we will celebrate more than 1,400 new graduates at our December commencement ceremonies. It is a recognition that they've rightly earned and I know that their degrees from UMSL will serve as a foundation for the rest of their lives. It is truly transformative and truly inspiring.
As we close out the year, please know that I am immensely thankful for each of you. May your semester wrap up nicely, may your holiday season be full of joy and excitement, and may you find time to rest and reflect before the new year to come.
Gratefully forward, 
Kristin Sobolik
Interim Chancellor and Provost
---
Notes of Note
Giving Tuesday: Thank you to everyone who participated in this week's #GivingTuesday in support of the UMSL Triton Pantry. It's not too late to make an impact and help those who face food insecurity. A gift of just $25 can extend a grocery budget by a full month.
New Degrees: In November, the Missouri Department of Higher Education and Workforce Development approved two new degree programs at UMSL: the Bachelor of Arts in Organizational Leadership and the Bachelor of Science in Sport Management. Students can begin enrolling in both programs for the spring semester.
Best for Vets: For the sixth consecutive year, Military Times has named UMSL to its "Best for Vets: Colleges" list. The ranking represents institutions that provide welcoming, supportive environments for military-connected students.
Global Excellence: The Department of Supply Chain and Analytics was certified as a Regional Centre of Competence by the International Purchasing and Supply Education and Research Association. It is the first such center in North America and joins others across the globe.
---
Headlines from UMSL Daily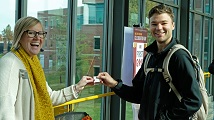 UMSL marks First-Generation Celebration Day
Marking the anniversary of the Higher Education Act of 1965, which made obtaining a college degree more affordable, universities across the country recognized their first-generation students' contributions.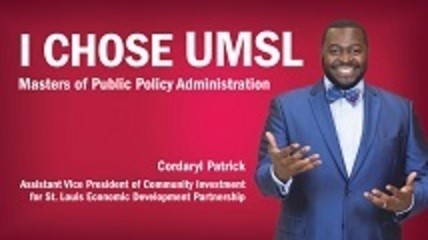 UMSL named to list of 30 Best NASPAA-Accredited MPA Programs
The Master of Public Policy Administration program at UMSL was the only program in Missouri to make the list.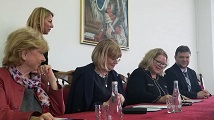 UMSL establishes partnership with Dimitrie Cantemir Christian University in Romania
UMSL hopes to create opportunities for students in Eastern and Central Europe thanks to the new partnership.
Summit showcases efforts of UM System researchers
Researchers shared a series of eight-minute presentations centered around the theme "Converging Disciplines to Support Sustainable Development Goals."