Connecting St. Louis through Educational & Community Partnerships
The Des Lee Collaborative Vision (DLCV) is the realization of an idea that linking the knowledge and resources of universities with public organizations through collaboration and partnership "can produce a synergism far exceeding the efforts of any one segment working independently (E. Desmond Lee)."   The DLCV brings together key educational, cultural, governmental and social service institutions to establish programs and share resources that benefit the St. Louis community. This is accomplished through the collaboration of more than 30 endowed professors with over 100 partner and community organizations both in the St. Louis region and worldwide.  Administered through the University of Missouri-St. Louis, the DLCV's primary focus is to enrich the overall quality of life throughout the St. Louis area and beyond, improve education and create opportunities for underserved populations.
---
Reports on activities that help accomplish the DLCV Mission can be found on our "Mission" page. 
Check out our Facebook page for highlights of some of our recent and upcoming activities.
"Education is the key to all of our hope and all of our progress." -E. Desmond Lee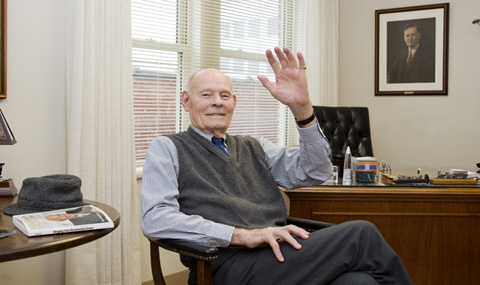 Des Lee proved that one man can make a difference! He was an extraordinary friend to the St. Louis community and is missed.
To honor Des Lee, we invite you to make a contribution to UMSL and be sure to designate for the Des Lee Scholars Fund.