Internships
The History Department's Internship program is designed to offer undergraduate and graduate students an opportunity to put to practical use a variety of skills and information acquired in the classroom. Internships provide useful work experience, letters of recommendation, personal references, and sometimes a job offer. Course credit is offered for internships  that typically place students in museums, historical societies, libraries and archives, heritage tourism sites, national and regional parks, urban revitalization organizations, and other entities where the historian's research and analytical skills can be practically applied.
Students use their skills in the workplace while earning credit toward their degree. Likewise, interns gain experience which can serve to make them more marketable upon graduation.
Internship Opportunities:
Missouri History Museum, Mercantile Library, St. Louis Circuit Court, Soldiers Memorial, Eugene Field House, Campbell House, World Chess Hall of Fame, Griot Museum, State Historical Society of Missouri, St. Charles Historical Society.
Contact Dr. Priscilla Dowden-White for more information on undergraduate internships
Contact Dr. Andrew Hurley for more information on graduate internships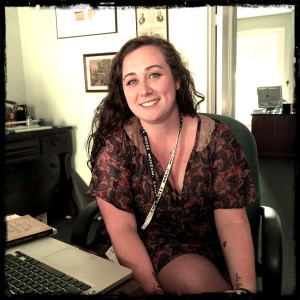 UMSL History Department Undergraduate and St. Louis Campbell Intern, 2014
"My time at the Campbell House has been spent working on the Museum's National Landmark nomination … I have also had the opportunity to take on other positions at the Museum by giving tours and volunteering at events. This opportunity has really helped me decide that I am in the right field and doing the right thing with my education." –Gabby B.