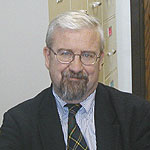 Steven Rowan, Ph.D.
Professor
Curriculum Vitae
Fields of interest:
Medieval History; History of Roman Law; Missouri Immigration; German activity in America in the 19th century
Major publications:
Ulrich Zasius: A Jurist in the German Renaissance, 1461-1535 (Frankfurt am Main, 1987) Law and Jurisprudence in the 16th Century (St. Louis: Center for Reformation Research, 1986). Germans for a Free Missouri: Translations from the St. Louis Radical Press (University of Missouri Press, 1983) Edited with Elizabeth Sims, Henry Boernstein, The Mysteries of St. Louis (Chicago: Kerr, 1990) translated, Emil Klauprecht Cincinnati, or The Mysteries of the West (New York: Lang, 1996) Henry Boernstein, Memoirs of a Nobody: The Missouri Years of an Austrian Radical (Missouri Historical Society Press, 1998) Translated, Wilhelm Kaufmann, The Germans in the American Civil War (Carlisle, PA: Kalmann, 1999) Translated and edited, Baron Ludwig von Reizenstein, The Mysteries of New Orleans, (Johns Hopkins University Press, 2002); Edited, Ludwig Freiherr von Reizenstein, Die Geheimnisse von New-Orleans (Shreveport, LA: Les editions Tintamarre, 2004).
The Baron in the Grand Canyon:  Friedrich Wilhelm von Egloffstein in the Wes
t (University of Missouri Press, 2013).
Current research:
Research on the mos italicus consilia tradition in Roman law in the 16th century; further research on German Radicals in 19th century Missouri. Currently completing The Baron in the Grand Canyon: Friedrich Wilhelm von Egloffstein in the West (St. Louis Mercantile Library, being considered for publication). In cooperation with his colleague Professor Carlos Schwantes, he has prepared a new translation of Michel Chevalier, Letters on North America (1836) currently under consideration by the University of Washington Press; he is halfway through a translation of Chevalier's History and Description of the Routes of Communication in the United States (1840-1843), which will amount to over 1000 pages single-space, also in cooperation with Professor Schwantes. 
To contact Dr. Rowan please use the following email Srowan@umsl.edu