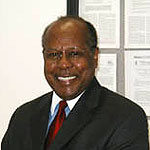 Adell Patton, Jr., Ph.D.
Associate Professor
Curriculum Vitae
Dr. Adell Patton, Jr. received his Ph.D. in history from the University of Wisconsin -Madison in 1975. He is a tenured Associate Professor and the author of Physicians, Colonial Racism and Diaspora in West Africa (Gainsville: University Press of Florida, 1996) and, with Shamsudenn O. Amali, he is the editor of Ethnicity, Citizenship and Democracy in the United States of America (Ibadan, Nigeria: Humanities Press, 2003). Patton's lead keynote address article introduces this volume.
Dr. Patton is also the author of two volumes of finished manuscripts (1) "Soul Voices From Tin Cup Alley: 'Another Kind Of Slavery' In the Eastern Arkansas Delta; [ca. 1800-1930's]," 500 doubled spaced pages, on the author;s family, other families, and community history in the Arkansas Delta; (2) "Soul Voices From Tin Cup Alley: `The cursed Sons of Ham' In the Eastern Arkansas Delta, ca. 1865 - 2004," 374 doubled spaced pages.
Dr. Patton is also the author of two book chapters on the frontier in Africa and on the African Diaspora. He is also the author of more than ten articles in refereed scholarly journals treating slavery in Africa, the "Back-To-Africa" movement in Arkansas, and the history of medicine in West Africa. He is currently engaged in research on Liberian history.
In 1975, Dr. Patton was among the first teachers of the African Diaspora in the United States at Howard University in Washington, D.C. From 1972 to the present, he has conducted archival fieldwork and has lived and visited England and about fourteen African state-nations that include West Africa, North Africa and East Africa.
To contact Dr. Patton please use the following email: Jazz@umsl.edu.
Dr. Patton's Webpage is at http:www.umsl.edu/~pattona