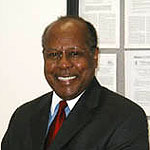 Adell Patton, Jr., Ph.D.
Associate Professor
Curriculum Vitae
Our colleague and friend, Adell Patton, died on September 25, 2017, in Barnes-Jewish Extended Care Center (Clayton, Missouri) after a long illness.
Professor Patton joined the University of Missouri–St. Louis Department of History in 1994 and retired in 2015. During his two decades at UMSL, he taught undergraduate and graduate courses in African and African American history and was an associate fellow in the Center for International Studies. He took a particular interest in preparing students for teaching history in secondary schools throughout the metropolitan area.
Dr. Patton was born in Haynes, Arkansas, in 1936, the sole child of Adell Patton Sr. and Willie Wilson Patton. Haynes loomed large in Professor Patton's research, memory and imagination. In the last two decades he prepared two large, unpublished manuscripts titled "Soul Voices From Tin Cup Alley" which had evolved into a compendia of Arkansas folklore, local history and their interactions with global developments. His other major publications included "Physicians, Colonial Racism, and Diaspora in West Africa" (Gainesville, 1997) and the edited volume "Ethnicity, Citizenship, and Democracy in the United States of America" (Ibadan, 2010)  as well as numerous articles.
Beyond his teaching and scholarly career, Dr. Patton demonstrated a zest for life and a great capacity for friendship. He loved his family, sports and jazz. He is survived by his wife, Christine, his son Broderick of Indianapolis and his daughter Naomi of New York City. His family and friends plan to hold a private celebration of life ceremony of life.
Donations can be made to the Department of History in memory of Adell Patton. Please send your donation to University of Missouri-St. Louis, 308 Woods Hall, 1 University Blvd., St. Louis, MO 63121. You may also go online to make a donation at giving.umsl.edu.