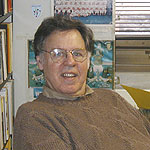 Charles P. Korr, Ph.D.
Professor Emeritus
Curriculum Vitae
Fields of Interest:
Social History of Sports, 1850-present, Britian, U.S., South Africa, Tudor-Stuart England
Major Publications:
West Ham United: The Making of a Football Club (University of Illinois press, 1986)
Cromwell and the New Model Foreign Policy (University of California Press, 1975)
"Une rhetorique de la familie: West Ham United" in Actes de la Recherche en Sceinces Sociales (1994).
"Marvin Miller and the New Unionism in Sports" in The Buisiness of Professional Sports (University of Illinois Press, 1991)
"Le Pays du sport face au sport le plus populaire du monde" in Societes & Representations (Paris, 1999
"A different kind of success: West Ham United and the creation of tradition and community" in Sport and the Working Class in Modern Britian (Manchester University Press, 1991)
Current research:
The role of organized sports in the lives of the political prisoners jailed on Robben Island, South Africa.
A history of the Major League Baseball Players Association (the players union) from 1960-1982.
A comparative social history of professional sports in Britian and the United States, 1945-1995.
To contact Dr. Korr please use the following email Cpkorr@umsl.edu