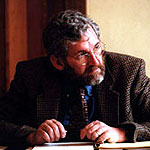 Robert M. Bliss, Ph.D.
Associate Professor, Dean, Pierre Laclede Honors College
Curriculum Vitae
Research:
Early modern English empire; North American colonies.
Major Publications:
Restoration England: Politics and Government, 1660-1668 (1985).
Revolution and Empire: English Politics and the American Colonies in the
17th Century (1990).
Recipient of the Distinguished Book Award for 1993 from the Society of
Colonial Wars.
To contact Dr. Bliss please use the following email blissr@umsl.edu