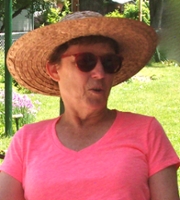 Professor Emeritus
Editor, Natural Bridge: A Journal of Contemporary Literature
459 Lucas Hall
314-516-6845
marytroy@umsl.edu
MFA, University of Arkansas
Mary Troy is the author of the novel Swimming on Hwy N (November 1, 2016), and the novel Beauties, winner of the USA Book Award and finalist for Forewords Book of the Year Award. Her previous three books are collections of short stories. Cookie Lily won the Devil's Kitchen Award for best book of prose published in 2004, The Alibi Café and Other Stories earned a glowing review in The New York Times, and Joe Baker Is Dead was nominated for the PEN/Faulkner and other awards. A short story, "Do You Believe in the Chicken Hanger?" won a Nelson Algren award, and her stories and essays have appeared in many anthologies.  
Teaching Interests 
Creative writing, especially short story and novel writing, form and theory of fiction, contemporary literature, journal editing, Chekhov and his influence on contemporary American short stories, the novella, and more.
Book Publications
Beauties, a novel (BkMk, 2010); Cookie Lily, a collection of short stories (SMU Press, 2004); The Alibi Café and Other Stories, a collection of short stories (BkMk Press, 2003); Joe Baker is Dead, a collection of short stories (U of MO Press, 1998).
Journal Publications
Many dozens in such journals as New Letters, Arkansas Review, North American Review, River Styx, Echo Ink, Sou'wester, Boulevard, American Literary Review, American Fiction, Chicaco Tribune.
Anthology Publications
Under the Arch, St. Louis Writers; Honolulu Stories, Two Centuries of Writing, American Fiction, number 2 and number 3, In The Middle of the Middle West.
Non-Fiction Publications
Riverfront Times, Echo Ink, Center For Literary Studies, In The Middle of the Middle West, and more.
Professor Troy has served as editor of the internationally distributed literary journal Natural Bridge since 2009.