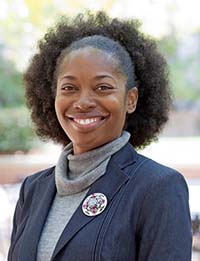 Meet Associate Professor Sha-Lai Williams
Sha Lai Williams is an associate professor in the School of Social Work at the University of Missouri – St. Louis. Dr. Williams teaches Social Work Practice and Human Behavior courses, utilizing her expertise as an accomplished facilitator of several nationally recognized training curricula and her experience teaching Masters-level courses at The Brown School.  She enjoys interacting with undergraduate students, serving as an advisor for master's level students and those involved with the BHWET program.  In addition, Dr. Williams is an active participant in the School of Social Work, as well as the UMSL and surrounding community.
Sha-Lai Williams received her PhD from The Brown School, Washington University in St. Louis in 2013. Prior to pursuing her doctoral degree, Dr. Williams gained over 12 years of practice experience in residential care facilities, non-profit agencies, and private practice, providing direct clinical practice to individuals, families, and groups affected by mental illness.  She is a licensed clinical social worker and has previously served as a supervisor to provisionally licensed clinical social workers in North Carolina.
CONTACT:
Phone: 314-516-4654
Office: 475 SSB
Office Hours: By appointment.