About Women in Economics (WIE)
Join others in discussing issues facing women in economics as well as learning about career opportunities and support for women in economics. The WIE group kicked off its inaugural year in 2014. Board members for the first year were Melissa Maxwell (BS/MA 2015), Emma Nix (MA 2017), Abby Wood BS/MA 2016), and Audrey Fischer (BS 2017). Prof. Lea Kosnik helped launch the group and served as Faculty Advisor until 2021.
Current President: Rachel Wilbanks
Additional Board Members: Senita Chambly, Imogene Benett, Katherine Wurl
Questions about the department's Women in Economics group can be directed to Faculty Advisor: Professor Winkler.

Mentoring Resources
   American Economic Association - Mentoring for Undergraduates
   AEA Committee on the Status of Women in Economics 
       (This is the main home page for CSWEP.)
   CSWEP News: Feature Articles by Audience
       (This is the CSWEP page that points students to more resources.)

A growing number of universities have similar clubs/organizations. One of the most prominent is at Harvard:  Harvard University's Harvard's UWE program
   (Info about Harvard's Undergraduate Women in Economics program)   
 
UMSL WIE News
---
In fall 2021, Bayley Quain (BS 2018), Supply Chain Developer at Royal Canin, discussed her position and challenges for women in economics. 
Natalie Orf, Senita Chambly, faculty adviser Anne Winkler, alum speaker Bayley Quain (BS 2018), Ashlee Sprock, and Imo-gene Bennett after Bayley's talk (briefly unmasked) at the Fireside Lounge in the MSC.
Women in Economics ZOOM Event!
UMSL economics alum Marcela Hawn, Senior Vice President, Chief Communications Officer for Centene Corporation, joined via ZOOM and discussed the path that led to her career, followed by a Q & A, on Nov. 19, 2020


---
UMSL faculty, students featured on St. Louis Fed's 'Women in Economics' podcast
Associate Provost Marie Mora (right) responds to a question during a recording of the Federal Reserve Bank of St. Louis' "Women in Economics" podcast on Feb. 20 in the J.C. Penney Conference Center. Mora and Professor Lea-Rachel Kosnik (left) were guests of host Mary Suiter (center), and the show, released March 31, also featured conversations with UMSL economics students Maia Elkana (who obtained her MA in Spring 2020), Ashlee Sprock, Hannah Drury, Geraldine Germain, and Sindi Ceta. Read more here. 
---
Brunch at Lea Kosnik's 2018
Barb Flowers (alum), Mary Suiter (alum) Lea Kosnik, Meagan Burwell, Emma Hogrebe, Kimberly Ging, Sarah Krueger, Maia Eklkana, Rachel Harrington, Jamie Vergano, Flannery Allison, Naomi Russell and Anne Winkler (photographer)
---
Women in Economics End of Semester Brunch at
The Scottish Arms, Nov. 18, 2017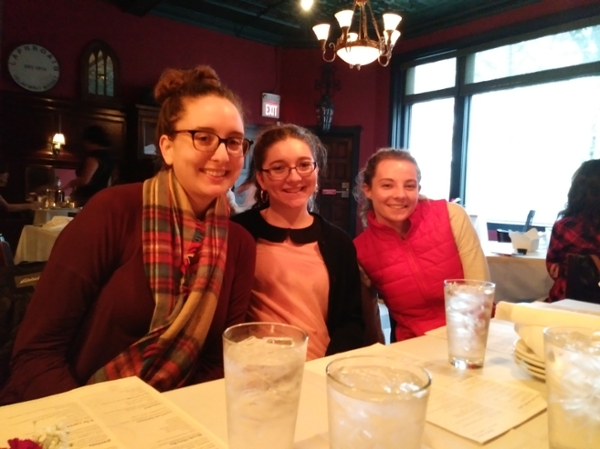 L-R Senior Meagan Burwell,  Senior Abby Froidl,
Junior Emma Hogrebe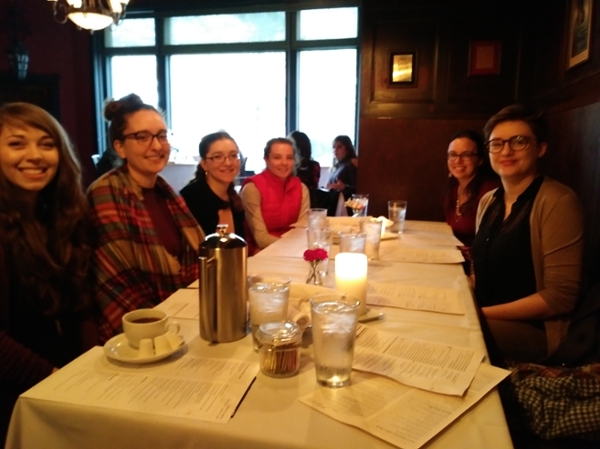 L-R Senior Jamie Vergano, Senior Meagan Burwell, Senior Abby Froidl, Junior Emma Hogrebe, Senior Anni Meyer, Junior Sadie Hill
---
 Women in Economics members at November 2015 Demolition Ball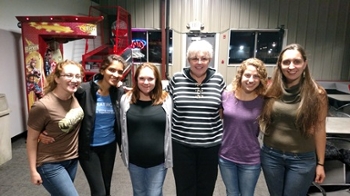 L-R grad student Emma Nix, Jestika Gajjar (a friend from the grad Info Systems  program), grad student Marisa Klein, senior Tobi WIlkins, grad student Abby Wood, freshman Samantha Nawrocki