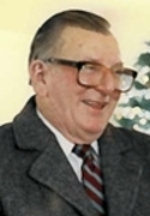 Dr. Robert Loring Allen is a late Professor Emeritus, University of Missouri. His career as a professor of international economics and economic history spanned over 45 years.  He was born in 1921 and served in WWII, where he was wounded.  He then went on to complete a Ph.D. in economics at Harvard.  He worked as an economist for the Central Intelligence Agency (1951-1956) and as a professor at the Universities of Virginia and Oregon prior to arriving at UMSL in 1968. 
Dr. Allen was a prolific writer and scholar.  While at the CIA he authored the quintessential book on the viability of "economic warfare," with particular emphasis on the Soviet Union.  While at UMSL his work focused on economic development and, in particular, on Venezuela and the role of oil and OPEC in economic development. 
Dr. Allen was one of the early members of the department and was so important to its development.  He served as department chair and was instrumental in establishing the importance of research and scholarship for its faculty members.  He liked to say "We're not a department of publish or perish, we are a department of publish and prosper." 
After leaving UMSL in 1987, he continued writing.  He wrote ten other books during his lifetime, including a highly regarded two-volume biography of Joseph Schumpeter and a biography of Irving Fisher.  Dr. Allen passed away in Nashua, New Hampshire in 1991.
In October 2014, the University of Missouri-St. Louis Department of Economics was very fortunate to be able to establish the Robert Loring Allen Memorial Scholarship award with a generous gift from Bruce Welz, an alumnus who earned a bachelor's degree in philosophy and a master's degree in economics.  Bruce attributed his success to his experience at UMSL and wished to create a lasting legacy for Dr. Allen, who had a tremendous influence on him.
| Academic Year | Recipient |
| --- | --- |
| 2020/2021 | Rachel Wilbanks |
| 2019/2020 | Jacob Krutzsch |
| 2018/2019 | Austin Gregg |
| 2017/2018 | Paige Steimel |
| 2016/2017 | Alexander Bercsziko |
| 2015/2016 | Code Rabe |
| 2014/2015 | Henry Heyburn |