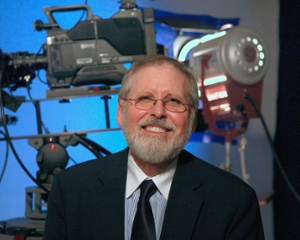 Dr. Michael D. Murray is a UM Board of Curator's Distinguished Teaching Professor. He received his undergraduate degree from St. Louis University and his Ph.D. from the University of Missouri. Prior to that, he worked for CBS News and News Election Service. His doctoral dissertation examined Edward R. Murrow's SEE IT NOW "Report on Senator Joseph R. McCarthy." He was founder and first director of the Communication program (now department) at the University of Louisville, the first person tenured in his field at that institution. He also taught at Virginia Tech and was founding director of the Greenspun School of Journalism & Media Studies at UNLV.
He served as department chair before being named a UM Board of Curators' Distinguished Teaching Professor and subsequently served as Chair of the Faculty Senate and University Assembly. He has held fellowships at Stanford and Cambridge universities and the Freedom Forum in New York. He was the first John Adams Fellow in Mass Media at the University of London, and a Frank Stanton Fellow of the International Radio-TV Society.  He received a Goldsmith Research Award from Harvard University for his book The Political Performers and has published a number of other books, includingTelevision in America and Indelible Images, while serving as the Editor-in-Chief of The TV News Encyclopedia. He also published two books on media education: Teaching Mass Communication (Praeger) and Mass Communication Education (Blackwell).  Proceeds from his book, Prime Time Pioneers, benefits Jack and Carole Buck Scholarships.
He currently serves as program reviewer for the National Endowment for the Humanities (NEH) for historic preservation projects in mass media. He served previously on the Legislative Assembly of the National Communication Association, as corresponding editor of Journalism History and review editor for the Journal of Broadcasting and Electronic Media. He also served on the Publications Board of the Broadcast Education Association which annually names the best doctoral dissertation in the field. He helped to found the Journal of Media Education, the first on-line journal of its kind, and was selected to serve on the reconstituted Editorial Board of the University of Missouri Press. His scholarly articles have appeared in major, mainstream journals in mass media: Journalism & Mass Communication Quarterly, Journalism & Mass Communication Educator, American Journalism, Journalism History, Communication Quarterly, TV Quarterly, Journal of Broadcasting and Electronic Media, and Communication Education. He is also co-author of the college textbook Media Law & Ethics (Routledge/Taylor & Francis) with Dr. Roy L. Moore.
He has been honored by many organizations including the International Radio & TV Society and both the Mass Communication & Society and Radio-TV News divisions of Association for Education in Journalism and Mass Communication (Ed Bliss Award), and Mass Communication Division of the National Communication Association. He served as national president the American Journalism Historian's Association and received the organization's highest honor, its Lifetime Achievement (the Sidney Kobre Award), as well as the highest recognition by the Broadcast Education Association, the Distinguished Service to Education Award. He was inducted into the National Academy of Television Arts & Sciences' honorary society, Silver Circle.
Contact:
Dr. Michael Murray
Department of Communication and Media
582 Lucas Hall
University of Missouri-St. Louis
Phone: 314-516-5496
E-mail: murraymd@umsl.edu