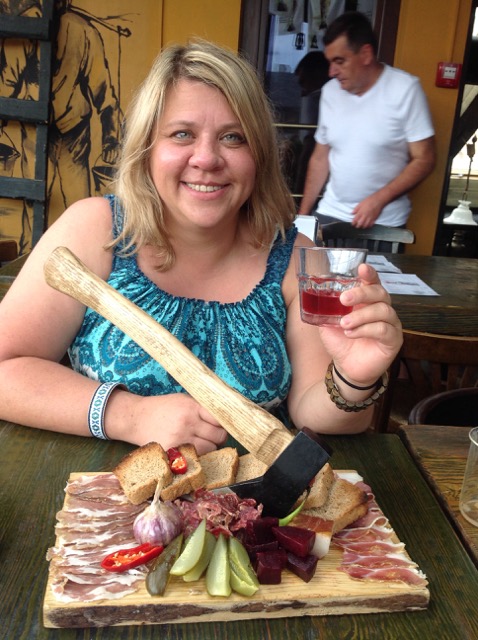 Dr. Zwarun is fascinated by persuasion and the media. Her research has documented the limited ability most people have to process messages in our distracted, overwhelmed lives. Much of her current work explores creative ways to brand environmental issues to cut through that clutter and address broader societal concerns such as the pollinator crisis.
One power of social media is to function as a voice of the people during unrest and injustice. In 2015, Dr. Zwarun traveled to Ukraine, which had been invaded by Russia the previous year, in order to conduct research on how Ukrainians used social media to counter Russian propaganda and disinformation. Since the recent invasion of Ukraine in 2022, she has spoken to numerous groups and media outlets about her research.
Her research and teaching go hand-in-hand. She seeks to encourage her students, many of whom spend enormous amounts of time on screens, to think critically about how media portrayals, as well as inequities in media ownership and distribution, can have harmful individual and societal level effects. 
In addition to her scholarly work appearing in journals including Media Psychology, American Journal of Public Health, and Computers and Human Behavior, Dr. Zwarun believes strongly in a university's commitment to community engagement. She was a 2019-2020 University of Missouri System Presidential Engagement Scholar , one of 15 faculty chosen to share their research contributions with Missouri residents around the state. She infuses global perspectives in both her teaching and research, and is a member of the UMSL Global Faculty Ambassador Network. With local partner Beyond Housing, she conducts community-based participatory research in the neighborhoods surrounding UMSL. She is member of the campus' Civic Engagement Committee, its Sustainability Committee, and is on the Advisory Council of Girls in the Know, a local organization that inspires & empowers girls to make healthy confident decisions.
Education:
Ph.D. in Communication, University of California Santa Barbara
M.A. in Advertising, University of Texas at Austin
B.A. in Rhetoric, University of California Berkeley
Frequently Taught Courses:
COMM 1050: Introduction to Mass Communication
COMM 1100: Introduction to Advertising
COMM 3330: Research Methods
COMM 3355: Dangerous Messages
COMM 6510: Graduate Research Methods
Selected Publications:
For additional information, please see faculty profile in UMSL Library's Institutional Repository . For a complete listing of scholarly works, see Google Scholar profile .
Zwarun, L., & Camilo, G.R. (2021). Facts aren't enough: Addressing communication challenges in the pollinator crisis and beyond. In: M.J. Yusha'u and J. Servaes (Eds.) The Palgrave Handbook of International Communication and Sustainable Development, Palgrave Macmillan, Cham. https://doi.org/10.1007/978-3-030-69770-9_18 (peer-reviewed)
Reinhart, A.M., Zwarun, L., Hall, A.E., & Tian, Y. (2021). Transportation into audio-visual narratives: A closer look. Communication Quarterly, https://doi.org/10.1080/01463373.2021.1981416
Bier, M.C., Zwarun L, & Sherblom, S.A. (2016). Evidence of the value of the smoking media literacy framework for middle school students. Journal of School Health, 86, 717-725.
Zwarun, L., & Hall, A. (2014). What's going on?: Age, distraction, and multitasking during online survey taking .  Computers and Human Behavior, 41, 236-244. DOI: 10.1016/j.chb.2014.09.041
Zwarun, L, & Torrey, A. (2011). Somebody vs. Nobody: An exploration of the role of celebrity status in an election. Social Science Journal, 48(4), 672-680.
Christie, T.B., Clark, A.M., & Zwarun, L. (2006). Finding a credible message to win the hearts and minds of the Muslim world. Global Media Journal, 5, 22.
Metzger, M, Flanagin, A., & Zwarun, L. (2003). College student Web use, perceptions of information credibility, and verification behavior.  Computers and Education, 41, 271-290.
Contact Information
Office: 570 Lucas Hall
Phone: (314) 516-6725
Email: zwarunl@umsl.edu