Please feel free to contact us if you have any questions or would like additional information.
UMSL Advanced Workforce Center
University of Missouri-St. Louis
225 Millennium Student Center
One University Boulevard
St. Louis, MO 63121
Email:
umslworkforce@umsl.edu
Phone:
314-516-4478
Fax:
 314-516-4611
Meet the Advanced Workforce Center Team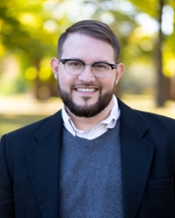 Kyle Lackey, M.Ed.
Workforce Integration Program Coordinator
kyle.lackey@umsl.edu
314.516.4478
Kyle Lackey serves as a Coordinator in the Advanced Workforce Center with key responsibilities of working directly to support and engage student learners through various workforce initiatives. He earned undergraduate degrees in General Transfer Studies from St. Louis Community College, Business Administration, and a Master in Adult and Higher Education from UMSL. Kyle is passionate about serving as a workforce integration coordinator while working directly to provide support to student learners to promote professional and lifelong success. He is a member of the National Association of Colleges and Employers, National Workforce Education Council, and the Missouri Department of Higher Education and Workforce Development Adult Learner Network. Kyle has participated in fellowship programs such as the New Leaders Council,; Neighborhood Leadership Fellow, and Strategic Data Fellow with The Scholarship Foundation.