J.C. Penney Building/Conference Center Room 61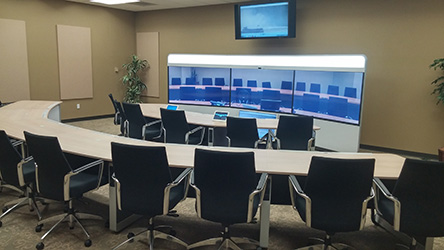 What Is Telepresence?
Cisco TelePresence is a new-generation videoconferencing system that provides users an immersive face-to-face meeting experience using three 65" high-definition (HD) LCD televisions and CD-quality audio. Each University of Missouri TelePresence room is designed to appear as though you are in the same room and communicating across the table with life-size colleagues. Cameras and microphones are pre-positioned to eliminate the need for adjustments. Presentations (like PowerPoint) can appear on auxiliary monitors. Up to eighteen conferees can formally participate. End users can initiate scheduled conferences using TelePresence-associated (VoIP) telephone, just like making a regular call. Calls can be point-to-point or multi-point.
Scheduling Telepresence
Note: TelePresence cannot be scheduled to deliver courses.
The scheduling for the room is done via Outlook, using the steps described below:
Click on File, then New, and then Meeting Request. Add meeting participants in the required and/or optional fields in the meeting request window that opens.
Go to the scheduling screen by clicking Scheduling and then click on the add others button to open the address book. Here is where you will also set the date and start/end times for the event.
NOTE: You must schedule at least 15 minutes between any meeting already on the calendar.
Type "TelePresence" to find the list of system wide available rooms and select two or more TelePresence rooms. These must go into the resources field!
Click OK
Add in required and optional users to be invited to the meeting.
Ensure the meeting times do not conflict with other meetings.
Click back on Appointment on the top ribbon and then Send to close the meeting request. Wait for a message from TelePresence confirming the meeting.
Visual step by step instructions on scheduling the room.
TelePresence users should be aware that on rare occasions, their scheduled meeting may be preempted to accommodate senior university officials. If this does occur, we will make every effort to reschedule your meeting and/or make arrangements for a non-TelePresence video conference or an audio conference in the original time slot

Telepresence Locations
UMSL: J.C.Penney Room 61. Map and directions
MU: Ellis Library, Room 106A
UMKC: Administrative Center, Room 210
Missouri S&T: Curtis Laws Wilson Library,Room 201A
MOREnet: MOREnet Building, Room 206B
Questions?
Monday - 7:30am-5:00pm
Tuesday - 7:30am-5:00pm
Wednesday - 7:30am-5:00pm
Thursday - 7:30am-5:00pm
Friday - 7:30am-4:30pm
Please Contact: