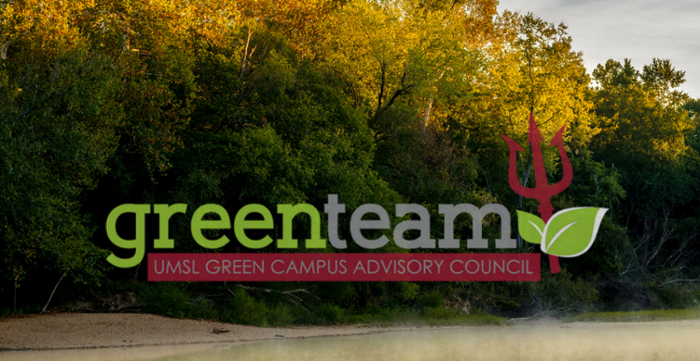 The UMSL Green Team
Welcome to the Green Campus Advisory Council -- a.k.a. UMSL Green Team! The UMSL Green Team is a group on campus that meets regularly throughout the semester to discuss ways for students, student organizations, and faculty/staff to get more involved on campus. We are open to any member of the UMSL community. Your participation is welcomed, vital, and greatly appreciated!
This UMSL committee will focus specifically on furthering initiatives identified in the Campus Sustainability Action Plan, and will attempt to bolster efforts that may already be underway. Sustainability projects are happening in all realms, across all departments and disciplines, so please consider how your role on campus may be useful in these efforts.
Currently, all work and communication with the UMSL Green Team is done online via Microsoft Teams. Please reach out to join our "Team" by emailing sustainability@umsl.edu or simply searching for us in the UM System Microsoft Teams platform.
Additional Opportunities to Get Involved
Don't forget that the Environmental Adventure Organization is a great way to get involved with environmentally-themed activities on campus. More info about EAO can be found on Facebook.
Be sure to check out our upcoming events. We always appreciate the help we can get at our events!
More information about the UMSL Environmental Leadership Program coming soon!