Elizabeth Eckelkamp
---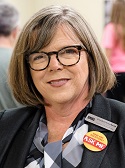 Vice Provost for Student Success & Academic Innovation
426 Woods Hall
314-516-5396
beckelkamp@umsl.edu
Beth Eckelkamp earned an MA in Asian Studies at Washington University in St. Louis in 1991, with a focus on Japanese language pedagogy and Classical era Japanese literature. She began her career as a Japanese language faculty member at Washington University in 1991 and was invited to join the faculty at University of Missouri–St. Louis in 2000 to lead a new Japanese program. Interest in the program grew and Eckelkamp proposed a BA in Japanese in 2010. Since that time the program has grown in declared students annually, reaching a current level of 25 majors.
Beginning in 2009, Eckelkamp served a three year term as director of Language Programs at UMSL, during which she focused on developing a robust faculty evaluation process and putting proficiency based student learning outcomes in place for language majors. In 2012, she transitioned to the position of associate dean in the College of Arts and Sciences with responsibility for the advising office, first year experience, retention and graduation initiatives, and curriculum matters. In August 2017, she transitioned to the Office of Academic Affairs as the associate provost for student success, charged with providing campus-wide direction in the area of student success, including academic advising and undergraduate student progress to graduation.
Honors and awards for Eckelkamp include the UMSL New Student Programs Outstanding Advocate for First Year Students award in 2017, the Division of Student Affair's Vice Provost Award in 2015, the MACADA Outstanding Advising Administrator of the Year Award in 2014, and the Chancellor's Award for Teaching Excellence in 2003. Grant awards include a NEAC Distinguished Speaker series award in 2011, and IT Innovation Grant in 2012, a Japan Foundation Salary Assistance Grant in 2014, a UM System Strategic Funding Grant in 2014, and UM System Comprehensive Retention Initiative grants in 2015 and 2016.