Curtis C. Coonrod, Ed.D.
---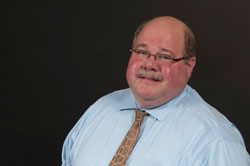 Vice Provost for Student Affairs & Dean of Students
301 Woods Hall
(314)516-5211
Curt_Coonrod@umsl.edu
Dr. Curt Coonrod is the Vice Provost for Student Affairs and Dean of Students. In this capacity he provides leadership to all units in the Division of Student Affairs as detailed in our organizational chart (PDF).  In addition to serving as the chief student affairs officer, Dr. Coonrod serves as the liaison to the Provost and other academic units.  He is a Clinical Associate Professor in the College of Education with over 30 years of experience in higher education and holds a doctoral degree in Education Leadership and Management.