D'Andre Braddix, Ed.D.
---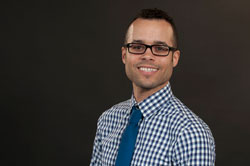 Associate Vice Provost for Student Affairs;
Deputy Title IX Coordinator
301 Woods Hall
(314)516-5205
Email D'Andre
Department Website
As Associate Vice Provost for Student Affairs, Dr. D'Andre Braddix oversees the departments which comprise Campus Life & Student Services: Health, Counseling & Disability Access Services, Residential Life & Housing, Student Involvement, Student Conduct & Community Standards, Student Social Services, Career Services and the Millennium Student Center. Additionally, Dr. Braddix is responsible for strategic initiatives within the Division of Student Affairs.
Dr. Braddix is advisor to the UMSL Chapter of the Associated Students of the University of Missouri (ASUM), and he is also a Clinical Assistant Professor in the College of Education - where he teaches graduate courses on educational law, ethics and leadership. Dr. Braddix serves on the Board of Directors for Citizens for Modern Transit, and he is a member of the Transit Advisory Working Group (TAWG) which was established by regional elected leaders to improve safety and restore public confidence in the Metrolink system.