Dr. Sichling's Top 15 article in Ethnic and Racial Studies Journal
                   
Assistant Professor Florian Sichling and his research collaborator, Benjamin Roth of the University of South Carolina, have written an article in the journal Ethnic and Racial Studies that is in the top 15 most popular articles of the past two years. Their article is titled, "Perceived advantages: the influence of urban and suburban neighbourhood context on the socialization and adaptation of Mexican immigrant young men."
As a result of this popularity, the publisher, Taylor & Francis, will allow free public access to the article through December 31st, 2019. To read the article in its entirety, click on the link on the title above.

Joe Pickard Presents His Research in Maynooth, Ireland

This summer, Associate Professor Joe Pickard presented his research on older adults who choose to walk Spain's Camino de Santiago at The Sacred Journeys 6th Global Conference in Maynooth, Ireland. Attendees included delegates from 15 countries and presentations from scholars, pilgrims, religious leaders, and others on a wide range of topics related to sacred journeys.

Uma Segal Delivers Keynote Address to the WHO in Turkey
Uma Segal has once again been asked to deliver an international keynote address. She was asked by the World Health Organization to deliver a keynote at the WHO Summer School on Refugee and Migrant Health on July 15, 2019 in Çeşme, Turkey. Her address was titled, "Beyond the migration crisis."

Remembering Joan Hashimi, Founding Faculty Member

We are sad to report that Joan Hashimi, a founding faculty member of the UMSL School of Social Work, passed away May 2.
Hashimi joined UMSL in 1975 and was instrumental in developing the BSW and MSW programs. She retired in 2001. Hashimi was granted emeritus status upon retirement in recognition of her contributions to the university and the field of social work. A scholarship was established in honor of the accomplishments of Joan and another founding professor, Norman Flax. Below is a link to an online obit with more details.
Joan Hashimi's online obituary

Yvonne Berry named Field Instructor of the Year

At our annual Graduation and Alumni reception,The School awarded its first Outstanding Field Instructor Award to Yvonne Berry, Senior Volunteer Engagement Specialist at the Red Cross of Missouri and Ankansas. Yvonne has been at the Red Cross for 40 years and supervised 75 students from programs across the region. She was recognized for her commitment to developing emerging social workers by acting as a teacher, mentor, and supervisor. Congratulations, Yvonne. We appreciate all that you do for our students!

Social Work professor Uma Segal is reaching across campus and across disciplines to collaborate with Felia Davenport, associate professor in the School of Fine and Performing Arts. Segal and Davenport will be working within the Syrian community to explore, analyze, and raise awareness of the challenges facing refugee populations. Social Work students will analyze interviews and focus groups that will then be woven into stories written by creative writing and theater students in an effort to educate and sensitize local communities to the realities of our resident refugee communities. Thieir work is being funded by a University of Missouri Research Board grant. Read more about their work and that of other Research Board awardees in this 3/28/19 UMSL Daily blog post.

Social Workers Present Research on Ferguson to the Pierre Laclede Society

Michael Gearhart
and his graduate research assistants,
Lakeisha Griffin
(left) and
Carly Vogt
(right) at the
Pierre LaClede Society
, a giving community comprised of generous alumni and other donors to the University. Michael and his assistants presented their research on the impact that the
Ferguson Community Empowerment Center
is having on the challenges facing the city's residents.


Assistant professor Sha-Lai Williams Woodson was a featured speaker on a panel presenting innovative research by UMSL African American faculty as part of UMSL's Black History Month recognition. Sha-Lai spoke about her research into how informal social supports such as churches may be a factor in whether people seek professional mental help. See more about her work and and that of others in this 2/11/2019 UMSL Daily Blog.


Assistant professor Florian Sichling has been studying young Syrian and Bosnian refugees in St. Louis and Nuremberg, Germany. In his work, he compares the experiences of first generation Bosnians with the more recent first-generation Syrian refugees in hopes of aiding second generation Syrians and making informed recommendations for policy changes affecting these and other immigrant communities. See more about his work in this 1/28/19 UMSL Daily blog.

Assistant Professor Michael Gearhart "is using his proximity to Ferguson to research how the community is bouncing back from that period of turmoil, as well as how implicit bias informs outside views of its residents. He is about a third of the way through a study examining the effectiveness of efforts undertaken by the Ferguson Community Empowerment Center to address the challenges faced by the city's residents and also getting started on work examining police-resident relationships in the wake of the Brown shooting."  To read more about Michael's work on civil rights in Ferguson, check out this 11/26/18 UMSL Daily Blog.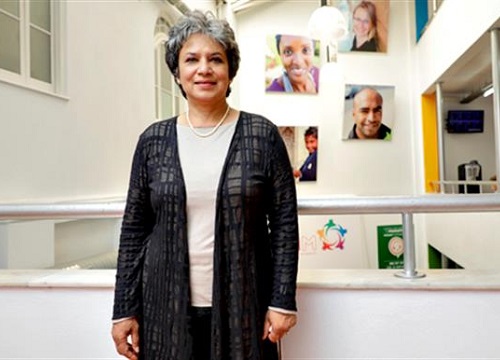 This past summer, Professor Uma Segal gave a keynote address in Edinburgh, Scotland at the inaugural World Congress on Migration, Ethicity, Race, and Health and she met with heads of governmental agencies in Portugal where she gave her expert opinions on migration. Her visit garndered some well-deserved attention and she was featured on the front page of a national newspaper in Portugal. Read about her work and travels in this UMSL Daily blog post.

Two Social Work Faculty to Give International Keynote Addresses
   
Professor Uma Segal (left) was invited to give a keynote address at the 1st World Congress on Migration, Ethnicity, and Race which will be held May 17-19, 2018 in Edinburgh, Scotland. Professor Segal gave her keynote address on the topic of "Global and historical perspective on human migration and the resulting creation of multi-ethnic societies." The title of her keynote address is Globalization, Migration, and Ethnicity: Opportunities and Challenges.
Professor Segal was also invited as a specialist in the area of refugee studies to give a keynote address in Lisbon to the High Commission for Migration. The title of that keynote address is Replacement of Refugees in Portugal: The Vision of a Fulbright Specialist. If you click on the title link to that address, you will find an abbreviated version of Dr. Segal's address published in the Commission's newsletter.
While in Lisbon, Uma was interviewed by the national newspaper Diário de Notícias regarding the shifting US policies toward immigration. Although the original article was published in Portuguese, you can see a translated version by clicking on the English translation: "Obama was tough on illegal (immigration), but not arbitrary like Trump."
Professor Baorong Guo (right) has been invited to give a keynote address at the Symposium on Commerce and Philanthropy, jointly hosted by China Institute for Philanthropy and Social Innovation (School of Public Administration, Renmin University), Dunhe Foundation, and Narada Foundation. The symposium will be held at Renmin University, Beijing, China, on October 22-23, 2018. The title of Professor Guo's keynote address will be "Rhetoric or Reality: Rethinking Social Enterprise."
Congratulations to our world-renown faculty!

Courtney McDermott Honored for Civic Engagement
Courtney McDermott won the 2018 UMSL Faculty Excellence for Civic Engagement Award earlier this week. Here she is pictured with Linda Wells-Glover who, in addition to Robin Kimberlin, nominated Courtney for this award. Courtney is the first recipient of this important recognition from the Civic Engagement Coalition.
Over the course of the past 2 year, McDermott has worked to raise awareness of racial equity within our region, has helped bring a tool to assess racial equity to agencies serving the St Louis area, and has developed a series of Social Work Conversations to bring speakers addresses this and other issues to speak to our student body. Kudos, Courtney!

Social Work's own Florian Sichling, along with Adriano Udani (Political Science) and Jorg Ploger from Dortmund, Germany, who visited the School of Social Work last year, appeared on St. Louis on the Air to discuss how well America incorporates immigrants into its communities. Click on the title above to read UMSL Daily's article about their appearance.