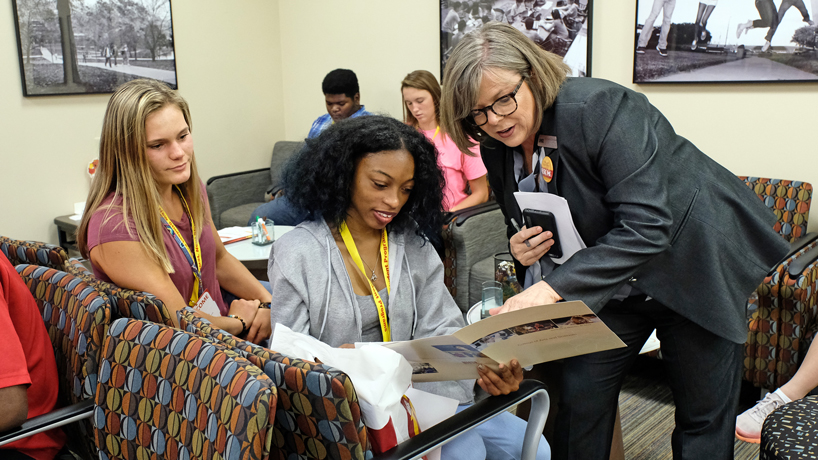 Beth Eckelkamp earned an MA in Asian Studies at Washington University in St. Louis in 1991, with a focus on Japanese language pedagogy and Classical era Japanese literature. She began her career as a Japanese language faculty member at Washington University in 1991 and was invited to join the faculty at University of Missouri–St. Louis in 2000 to lead a new Japanese program. Interest in the program grew and Eckelkamp proposed a BA in Japanese in 2010. Since that time the program has grown in declared students annually, reaching a current level of 25 majors.
Beginning in 2009, Eckelkamp served a three year term as director of Language Programs at UMSL, during which she focused on developing a robust faculty evaluation process and putting proficiency based student learning outcomes in place for language majors. In 2012, she transitioned to the position of associate dean in the College of Arts and Sciences with responsibility for the advising office, first year experience, retention and graduation initiatives, and curriculum matters. In August 2017, she transitioned to the Office of Academic Affairs as the associate provost for student success, charged with providing campus-wide direction in the area of student success, including academic advising and undergraduate student progress to graduation.
Honors and awards for Eckelkamp include the UMSL New Student Programs Outstanding Advocate for First Year Students award in 2017, the Division of Student Affair's Vice Provost Award in 2015, the MACADA Outstanding Advising Administrator of the Year Award in 2014, and the Chancellor's Award for Teaching Excellence in 2003. Grant awards include a NEAC Distinguished Speaker series award in 2011, and IT Innovation Grant in 2012, a Japan Foundation Salary Assistance Grant in 2014, a UM System Strategic Funding Grant in 2014, and UM System Comprehensive Retention Initiative grants in 2015 and 2016.
In her role as vice provost, Eckelkamp has addressed critical issues in the student success arena, which includes the design and implementation of a performance management system focused on improving the student experience in academic advising, as well as leading a successful and robust implementation of a unified advising record. Additionally, Eckelkamp focuses on the undergraduate student experience in the classroom and on student success outcomes, partnering with campus leaders in academic departments, advising and student support services with an ultimate goal of collaborating to create a student-ready campus that builds a sense of belonging for all students. 
---
Alicia Hutchings earned her BSN in Nursing at Truman State University in 2004, MSN at Maryville University in 2008, and PhD in Nursing at Oklahoma City University in 2016. Early in her nursing career Hutchings knew the way she could make the greatest impact in healthcare was to educate competent, caring, and compassionate nurses. She has been in nursing education since 2007, where she started at Lutheran School of Nursing in St. Louis. From there, Hutchings made the journey to Oklahoma City University, teaching primarily in undergraduate education, expanding her knowledge and expertise in curriculum, teaching excellence, and university service. In 2016, she returned to the St. Louis area and joined the UMSL faculty. Hutchings's graduate degrees MSN and PhD both have an emphasis in nursing education. She has had the opportunity to teach in both undergraduate and graduate nursing courses and assist with programmatic development and evaluation.
Hutchings is recognized as a Certified Nursing Educator, demonstrating expertise in this area. She has also received recognition as a peer reviewer through Quality Matters. Additionally, Hutchings has received a certificate in effective college instruction through The Association of College and University Educators and the American Council on Education (ACUE)
Beginning in 2017, Hutchings joined the leadership team in the College of Nursing, serving as the RN to BSN program director. She has responsibilities for supporting faculty and students as well as curriculum matters.  
In 2020, Hutchings joined Academic Affairs as the Vice Provost's Faculty Fellow for Student Success. In her role, Hutchings will support student success initiatives across UMSL. Current initiatives include:
Re-launching training and the use of Starfish Analytics for academic leaders and faculty advisors which helps to predict student success and retention.
Proud to Be First Scholars program which focuses on the journey of students whose parents did not graduate from college and fosters their journey through specialized support and programming.
NC-SARA State Authorization UMSL Coordinator