Jennifer Siciliani, Ph.D.
Teaching Professor
Behavioral Neuroscience

---
Dr. Jennifer Siciliani earned her doctorate in Experimental Psychology in the area of Psychoneuroendocrinology from The University of Tennessee–Knoxville, where she conducted research investigating the immune consequences of exercise stress, exercise competition, anger, betrayal, and human sexual intercourse. She earned a Master's degree in Human Neuropsychology from the University of Northern Colorado in Greeley Colorado, where she developed an assessment tool to identify sexual dysfunction. She earned her Bachelor of Arts from the University of Southern Maine, in Gorham, Maine.
Dr. Siciliani has conducted research investigating changes in secretory IgA and salivary cortisol as a function of sexual intercourse in married individuals. She has also conducted research on male and female body image distortions and the "tend and befriend" hypothesis. She has presented her research at multiple annual meetings of the Society for Behavioral Medicine, the Midwestern Psychological Association, and the American Psychological Society.  Her research has been featured in the APS Observer, Health Magazine, Fitness Magazine, and the Annals of Behavioral Medicine. She has experience teaching many different psychology courses at her two alma maters, as well as at The University of Illinois at Chicago, and DePaul University in Chicago.
Her hobbies include snowboarding, SCUBA diving, culinary arts, weight training, travel, reading, hiking, and rock climbing. She is also a professional vocalist.  She received the Chancellor's Award for Excellence at the University of Tennessee–Knoxville. She is also the recipient of the Emerson Excellence in Teaching Award, the Student Life Award, and the Chancellor's Award for Excellence at the University of Missouri–St. Louis.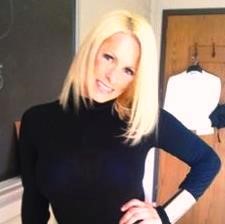 e-mail
phone
(314) 516-5469
office
323 Stadler Hall
links