March 22, 2018 New Mercantile Member Reception
Are you a new member of the Library?  Join us on March 22nd from 4-6pm for refreshments and a formal introduction and tour of the Mercantile collections! Please RSVP to Amanda Schneider at 314-516-7248 or amandarschneider@umsl.edu.  Not yet a member?  Join today to receive invitations to special members-only events, as well as discounts on research services and Library publications! 
April 6, 2018 An Evening of Celebration and Thanks
Join us on Friday April 6th from 6-9pm for An Evening of Celebration and Thanks, when we will recognize our generous donors and friends of the Library who have made a promised gift to the St. Louis Mercantile Library Art Museum, including most recently The Light that Makes the Heart Glad by Frederick Oakes Sylvester.  This acquisition is a watershed moment in our mission to preserve regional art at the Mercantile Library Art Museum, and the support of our generous donors reassures us of the broad community commitment to this important mission.  We look forward to welcoming you to a special exhibition to showcase this and other promised gifts to the Art Museum collection. Please RSVP to Amanda Schneider at 314-516-7248 or amandarschneider@umsl.edu.
April 27, 2018 Celebration of Gutenberg Acquisition
Join us for a special reception at the St. Louis Mercantile Library on Friday April 27 from 6-8pm as we celebrate the acquisition of two leaves from the Gutenberg Bible.  View these for the first time along with other Gutenberg leaves from other great rare book libraries in St. Louis.  RSVP by phone to 314-516-7248 or email amandarschneider@umsl.edu  
May 2, 2018 Give STL Day 
On Wednesday May 2nd the St. Louis Mercantile Library will once again be participating in Give STL Day, a 24-hour online giving event organized by the St. Louis Community Foundation to rally financial support for deserving non-profit organizations in the region.  A donation at any level will help to maintain the Library's famed collections and aid in our staff's reseach, teaching, and curatorial services as we all protect and preserve the great St. Louis cultural asset that is the Mercantile.  We hope that you will help us celebrate Give STL Day by visiting https://www.givestlday.org/stlouismercantilelibrary on May 2nd between 12:00am and 11:59pm, to show your support for the Mercantile Library.  Thank you always for your generosity. 
May 4-6, 2018  St. Louis Fine Print, Rare Book & Paper Arts Fair 
The St. Louis Fine Print, Rare Book & Paper Arts Fair brings together thirty local and national fine print and rare book dealers to present a broad array of exceptional materials appealing to collectors at all levels of experience. From finely illustrated books to prints by Audubon, WPA artists and Old Masters, original watercolors and historic photographs, the thousands of treasures available to view and purchase include something for every taste and budget. The Fair is presented annually the first weekend in May to benefit the Mercantile Library's collection and conservation funds.  Visit printfair.umsl.edu for more information.  
Headlines of History: Historic Newspapers of St. Louis and the World Through the Centuries at the St. Louis Mercantile Library Association 
On Level One through 2019
This is the third in a planned tetralogy of exhibitions building to the 175th anniversary of the St. Louis Mercantile Library, and marks the growth and special nature of the collections of the Mercantile by focusing on one of the most used and important holdings at this research center, its newspapers.  This important exhibition features such items as the first known issue of the Missouri Gazette, the oldest newspaper printed west of the Mississippi; and an issue of the Pennsylvania Ledger from July 13, 1776 marking the first printing of the Declaration of Independence in a newspaper.   Future programming will include a Family Day and Director's and Curators' Colloquia.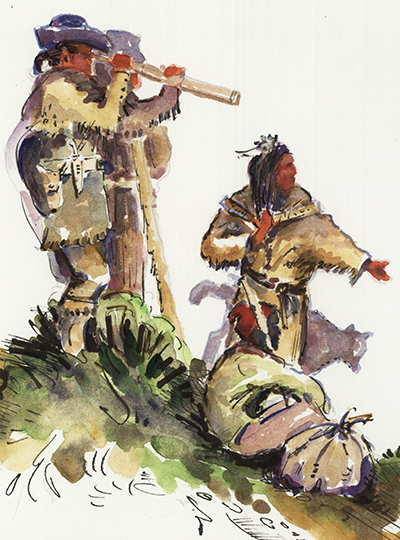 Missouri History in Bronze: The Sculpture of R.H. Dick
In the Level Two Entrance Gallery
It is a special honor for the St. Louis Mercantile Library to present the work of a fine narrative artist, one whose uncompromised vision has been a pleasure for us to celebrate, to collect, and to pass down to future generations.  Working in the tradition of many iconic American sculptors, R.H. Dick has created a series of bronze sculptures that commemorate significant individuals in Missouri's frontier history, such as Jesse James, Wild Bill Hickok, Sacajawea, Daniel Boone, and Black Hawk. These and other subjects whose stories are revealed in this series document the role that Missouri played in our nation's westward expansion. Works such as these that unfold and enrich the stories of our state's history are, indeed, a gift to the citizens of Missouri.    
100 Million Buttons Can't Be Wrong
In the Shopmaker American Political Collection Gallery 
The Shopmaker Political Collection contains over five thousand items used by candidates in the election process.  Although the collection includes some materials from state and local elections, the vast majority of the collection relates to presidential campaigns.  Similarly, while the collection include bumper stickers, posters, hats, cigars, paper dolls, coffee mugs, and so much more, by far the largest number of objects are buttons.  This exhibition draws its inspiration and its name from the button Wendell Willkie made famous in his 1940 bid for president, "100 million buttons can't be wrong" and explores the fascinating history of the ubiquitous campaign button.  This focused exhibition examines the range of sizes, the degree of seriousness, and the use of text and images that have been used over the years.    
Lincoln: The Changing Face of an American President
In the Shopmaker Political Print Gallery
The changes in Lincoln's appearance that were manifested over the period of his presidency reflect the rigors of the Civil War and the personal tragedies he suffered with the death of his son, Tad.  This exhibition traces these changes through a selection of images of Lincoln across several media, including prints, photographs, sculpture and textiles.  The portraits tell the story of Lincoln's rise from young circuit lawyer to inspiring president to icon of American democracy.