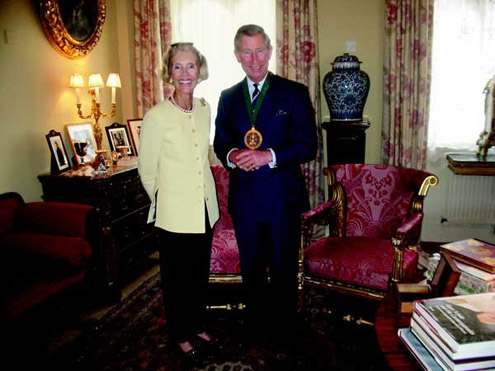 The International Center for Tropical Ecology (now known as the Whitney R. Harris World Ecology Center) at the University of Missouri-St. Louis presented the university's World Ecology Award to the United Kingdom's King Charles III. The presentation was made by Jorie Butler Kent, a member of the center's advisory board, at a small ceremony in the King's offices in London, England.

HRH The King has been a tireless campaigner for the protection of the UK's countryside and its rural way of life. He has promoted the concept of sustainable development and has focused attention on issues relating to modern farming methods and the importance of organic agriculture and other mechanisms that reduce the environmental impacts of food production.

Through his many speeches he has supported the certification of timber from sustainable sources, the Biodiversity Convention and the need to protect wildlife and conserve tropical rain forests. He has shown his deep concern for declining fish stocks and the impact of the fishing industry on marine birds and used his influence to urge the implementation of sustainable fishing techniques.

King Charles has supported numerous conservation and environmental organizations through leadership as either President or Patron. Some of these organizations include: Atlantic Salmon Trust, Botanic Gardens Conservation International, British Deer Society, Foundation and Friends of the Royal Botanic Gardens, Kew, Friends of Conservation, Marine Conservation Society, National Council for the Conservation of Plants and Gardens, Scottish Wildlife Trust. Through his Charitable Foundation, he has provided significant financial support to initiatives pertaining to the environment and the promotion of sustainability.