Name: Tyler Sanguinette
Program: UMSL exchange at the University of East Anglia, Norwich, UK
Major: Fine Arts - Graphic Design
Term Abroad: Senior, Fall 2014
Norwich: "A Fine City"
"Nervous?"
"Yes."
"First time?"
"No, I've been nervous lots of times."
If you are familiar with the movie "Airplane" then you already know where this quote is headed. I think it is a good representation of not only my pre-departure feelings for my study abroad experience but in a quirky way an indication of the things to come. Before leaving the country I prepared as best I could. This included visiting and emailing my academic advisor more times than I probably should have, checking plane ticket prices until I was sure I had found the best one and reading an exorbitant amount of articles on British culture. Of course it takes many tasks to prepare for an experience such as this but these were the top three for me — well, four if you count course credit evaluations.
Now that I had read about British culture and planned the finer details it was time to experience it. The first day and week was filled with exciting new things or at least different from what I experienced at home in Missouri. I learned the dissimilarities between countries fairly quickly as you are embarrassed in the new culture. My flatmates were from Canada, Sweden, Norway, Hong Kong, Scotland and England so I was able to gain some knowledge about different cultures and even pick up a few Swedish words. On the other hand, I found myself trying to explain American politics and sharing ideals much as everyone did in our flat. From my study around experience I definitely learned a few life lessons. It helped me understand situations better and taught me how to communicate regardless of the obstacle(s) at hand. On a fundamental level, I grew in areas that expanded my flexibility, open-mindedness, assertiveness and self-confidence along with learning how to be independent.
To discuss school life, modules were a bit different than American "classes". Modules [classes] usually met once a week for two hours, that is for art history. My plant biology module met three times a week for one hour and consisted of two practicals that were 5 hours each. There was a lot of reading to do, especially for art history. Each art history module had a specified set reading each week, easily 15 to 20 pages per class. Sometimes there were more than one depending on the topic at hand. Among papers, presentations and class involvement were factors relating to marks [grades]. In all, the biggest difference I found in classroom behavior was the open dialogue between teachers and students, even in larger lectures. There is a dialogue that takes place where ideas can be questioned, explained or drawn from but in a more open way.
In general, UEA has beautiful landscapes. It is sort of ironic considering the amount of concrete you are surrounded by. Norfolk, the region UEA is located, and Suffolk are known for their natural beauty. On campus you will find a large broad accompanied by surrounding countryside trails. This is a nice addition to the experience especially when you need to get some fresh air while writing a 15 page paper or have spent hours reading. Norwich, the city, is a typical English town complete with a market, castle, river, Victorian architecture, quaint shopping areas and typical cathedrals. Although I only lived in Norwich for three months I definitely consider it a home — a home away from home.
During my studies I was lucky enough to have traveled extensively. Paris, Edinburgh, London (many trips to London), Cromer, Cambridge, Budapest, Barcelona, Amsterdam and Reykjanesbær were the cities I visited. I'll never forget the moments I experienced standing atop the Catalonian mountains in Spain, looking outward from the Tour Eiffel, touring the Hungarian parliament, seeing the poppies at the Tower of London, the breathtaking view after climbing a peak in Scotland or standing on a canal bridge in Amsterdam. Traveling, whether it be on a train, boat or airplane, helped me meet interesting people that I would have not engaged with otherwise.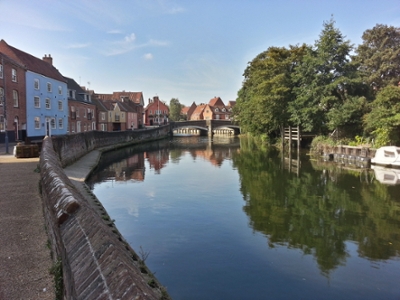 Overall, I would highly recommend studying abroad to anyone who has the slightest interest in doing so. If not, then let my study abroad process journal change your mind. It explains my travels on a more extensive note and contains my entire study abroad process from start to finish. Please visit my process journal online at http://tylersanguinette.com/england/ or view all of my pictures at http://flickr.com/tsanguinette/