Read about previous student experiences in Spain!
Name: Rosester Morrow
Program: Faculty-Led Program for Spanish in Barcelona
Major: International Business
Term Abroad: Summer 2015
Traveling to Spain has always been one of my dreams and when I got up the courage to apply for a study abroad program, I knew the Barcelona Summer Program was the one for me. After a day and a half of semi-comfortable traveling I found myself at El Prat Airport in Barcelona, Spain. Once I made my way through the baggage area I was greeted by the smiling faces of my program mates and Dr. Baldini. From there we caught an airport shuttle bus to the city center to make it to The Agora, where we would be staying. After dropping off our luggage we made our way to Las Ramblas, which is a big street filled to bursting with souvenir shops, cafes, restaurants and street performers. As if the novelty of that wasn't enough, you are surrounded by beautiful old buildings that you just know are filled with a history and beauty that just doesn't have a comparison in the United States. The streets are full of life and the Spanish always seem to have something to celebrate and so the atmosphere always seems to be very festive. Las Ramblas ends at the Mediterranean Sea, where you have a beautiful view of the harbors.
The classes at UAB were also fantastic and I absolutely loved my teachers. They were approachable and helpful and the classes are never boring. The school is located in a beautiful historic building close to the famous La Sagrada Familia, so after school you can go for lunch or a coffee with it as the background. In addition, at the language school you meet people from all over the world who are also learning Spanish and you are able to make life-long connections and experience different cultures.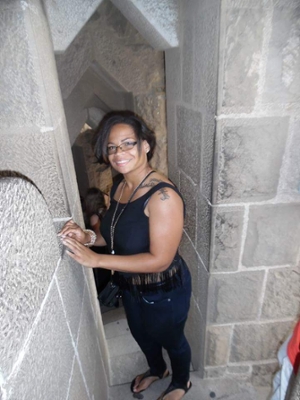 Most days after school Dr. Baldini took us on walking tours of some of the most famous places in Barcelona. The tours were always very interesting and Dr. Baldini always seems to know some little known fact that makes each place even more interesting than it may initially appear. We got to visit some of the famous buildings by Gaudi, one of the most famous architects in Barcelona, and even took a trip into the country side to visit a winery.
In addition to class and faculty led time, we also had a good number of off days were we could explore Barcelona on our own. The city seems to have something for everyone. There are many beaches close by if you prefer surf and sand and there are mountains that you can also explore or hike. In addition, they offer boat rides in the harbor, there are Picasso and Dali museums nearby and if you like to dance, discotecas at night.
Going to Spain was one of the best decisions of my life and I have been recommending Barcelona since I got back home. I feel like I have become a person much more aware of the world and I plan on returning the first chance I get.
Name: LaMonica Evans
Program: UMSL faculty-led program for Spanish Language to Barcelona, Spain
Major: International Business & Marketing
Term Abroad: Summer semester during junior year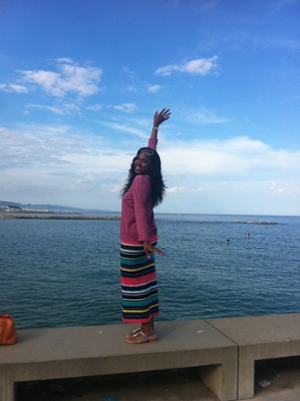 As months of agonizing anticipation built up, after all of the planning, shopping and preparation. I finally found myself on my flight to one of the most beautiful cities in the entire world Barcelona, Spain! Even though I was so excited for my experience abroad, my nerves were kicking my butt. It was my first time out of the country and I wasn't even conversational in the Spanish language yet. However, the biggest fear I had to overcome was the plane itself. I was embarking on a 9 hour journey over the Atlantic ocean. I'd never ever flown on a plane until then and it wasn't bad at all once I had gotten over the turbulence! 
Once I stepped out of the airport and into my new life in Spain, I was overwhelmed with so much beauty that I could barely contain my excitement. I was the last of the group of UMSL students to arrive in Barcelona so I didn't want to come off too weird to everyone else but it was extremely tough to not jump out of the window on the ride to the dorms. I saw mountains for the first time in my life and they took my breath away instantly. As we rode through the city, I admired the detail of the architecture that the city is so famous for. It was amazing.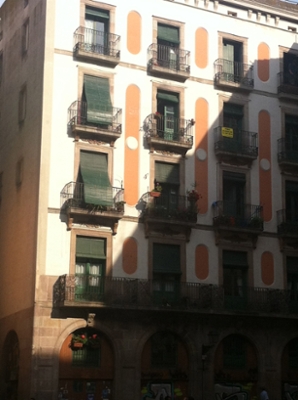 My first full day there was a bit tiring. I was jet lagged from my flight and carrying the luggage up from the bus to my room was a hassle. Me and the other students also took a long walk around some of the most beautiful areas of the city as well that day. I got to walk down the famous "Las Ramblas" street which was filled with natives and tourists from around the world. I saw artists drawing, mimes in beautiful costumes, cool street performers and one of the biggest outdoor markets I've ever had the chance of seeing. I couldn't wait to bust out my Euros and start spending! It didn't end there though, after the market we walked down to the sea port where people take relaxing boat rides along the mountains. I was in awe of everything and everyone I laid my eyes on. The people were so amazing. 
I quickly realized how fashionable the people of Barcelona were. It was one of the huge differences my professor pointed out about Americans and Spaniards. Back in the states many people only bother to get dressy for special occasions. No, not in Barcelona. Everyday is an occasion for the Spaniards to dress to impress. I saw scarves, accessories, color coordination. I knew I had a lot of outfit planning to do once I got back to my room that night.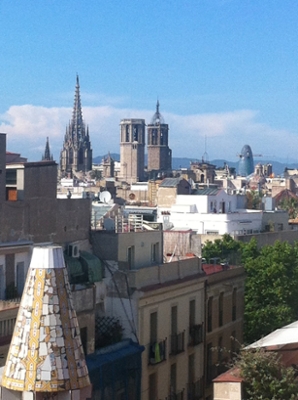 The first few days there, me and the other students did a ton of site seeing. I mean it was sooo much to see in Barcelona and we only had to weeks to do it! We were privileged to have the chance to see a ton of art while we were in Barcelona. We got to enjoy the scenery of Parque Guell which held some of the work of the great artist Gaudi. If I told you that I also got to sit on the longest bench in the world, you'd have to believe me when I say it was the coolest feeling ever. The Picasso museum was a wonderful experience. I gained a new respect for Picasso's talent because we saw his work from the time he was 13 all the way up to his death. Abstract art also grew on me as well as I scuffled around the Miro museum, another renowned Spanish artist. Dr. Baldini (my professor) made sure to teach us something new about the history of the architecture every chance she got. I felt like I was in a movie walking down the streets of Barcelona because that's exactly how incredible the buildings were. 
A couple days into the trip we had finally reached the first day of school. They made us take placement tests to determine which level of Spanish was suitable for us and afterwards we were placed in out classes. My class was filled with so much diversity. There were students from China, Taiwan, Brazil, France, Canada, all the way to Singapore! I couldn't wait to get to meet these new people. Over the next 2 weeks, we'd share so many laughs as well as help one another learn the Spanish language better. The core purpose of the class was to help us get better in the language but I really enjoyed how my Universitat de Autonoma de Barcelona instructors gave us the chance to get to learn more about each other.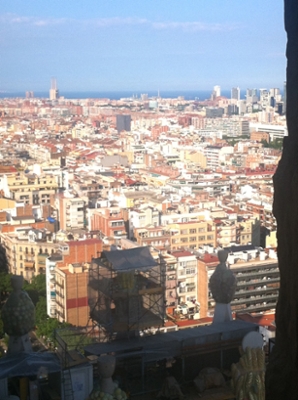 During lunch we'd eat a near by cafe's and bars. Wine was apart of every meal of the day, that was something I didn't mind getting used to. Food overall I had to warm up to a bit. The meats weren't really cooked as long as we cook them over in the states. Spaniards are really big on bread, rice, and other carbs. I thought I'd be big as a house when I got back home but it really didn't matter because I wanted to try everything while I was there. Pimientas and paella became my favorite tapas while I was away. Even now that I'm back home, Im having withdrawals. Sangria was the best drink which is a wine mixed with fruit and soda! 
As time went on and Barcelona grew on me, I began interacting with the natives more. I could tell my Spanish was improving because we had no choice but to communicate with the Spaniards seeing as how we were traveling the city by ourselves. I loved it though noticing how my Spanish was becoming more automatic and understanding what people were saying around me. After a day of shopping me and some friends decided to finally go to the beach and soak up some sun. After running my feet through the sand I felt like I was at home. That definitely had to be one of my favorite places of all. I was taken aback by the topless women at first though I must say.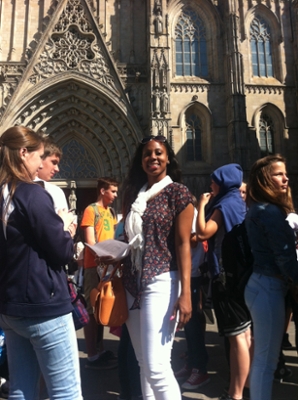 Nightlife in Barcelona is absolutely insane! Me and the crew went to the Casino one night before going off the the discotech and as excited as I was for my first legal gambling experience I happened to win 2 Euros! The discotech was one of the most momentous times I'd had there too. I met so many people from around the world. I saw some crazy people, some were great dancers, some were drunk out of there minds but it was an incredible memory for me. 
I think that it's safe to say that I went broke my time spent in Spain. I couldn't help but to spend every Euro and Dollar I had. The streets were paved with clothing stores, souvenir shops and amazing cafes. There was no way I'd make it home with more than 20 bucks. I shopped til I dropped. 
Spain was hands down the best experience of my life. I met sooo many amazing people, I got to see and learn about a wonderful culture of people and the history behind them. I tried some great and not so great food but I don't regret any one thing that I tasted. I was reunited with the beach which was the coolest thing ever. I partied and got to experience the casino for the first time. If I could do it all again, I would in a heart beat. This experience has really opened my eyes about all this world has to offer. Spain is now put on my bucket list, I'm absolutely sure I'll be back.