Name: Scott Morrissey
Program: Provider program to San Jose, Costa Rica
Major: Spanish & Education
Term Abroad: Spring semester during sophomore year
I remember before I was a student here at UMSL, I took a tour of the school. As we were walking through the different parts of the building we stopped by the Office of International Studies. My tour guide briefly informed me of the various programs offered in the Office of International Studies. During this time, I thought to myself, I would love to study abroad, but it feels too difficult to do and too expensive.
One year later, once I became a student at UMSL, I remember sitting in class with a guest speaker promoting a study abroad program offered to UMSL students. I thought that would be so amazing, but I wasn't sure how to achieve this goal. One day, curiosity got the best of me and I walked into the Office of International Studies to check out exactly how much it would cost, and what it would take, and to my surprise, it wasn't unachievable, or expensive! From that point on I started my search for a program that coincided with what I was looking for. I soon applied for a program in Costa Rica and before I knew it, I had received scholarships to help pay for my classes, travel and living expenses.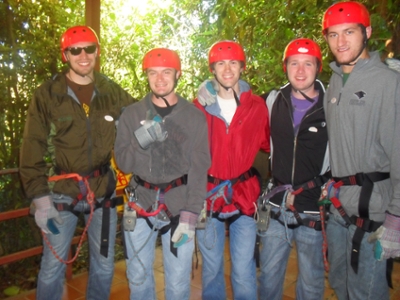 Although I spent about three months in Costa Rica, I wish I was there for much longer, and despite this, it still ended up being the best experience of my entire life. Not only did this study abroad journey help me to find myself and discover my love for travel, but it also helped open my eyes up to the world and what is going on outside of the US. On top of all of this, my Spanish communication skills improved fivefold within the last couple of months. Now I can sit down and hold a complete conversation in Spanish with a native Spanish speaker, whereas before this experience I was shy when speaking Spanish, even with my professors at school who also learned Spanish as a second language. It was such a great opportunity, and the cost of attending school there ended up being about the same as if I were to take classes at UMSL, the difference was that I was in another country, meeting interesting people, trying all sorts of new things, and learning more than I ever have in my life about everything Costa Rica has to offer.
The classes, though intense, were not as hard as I thought they might be. My teachers were so caring and were always willing to help out with anything I might have needed to adjust to the new culture and style of class. Another great thing about being there, of course, was traveling. I ended up traveling every single weekend except for one, which I spent touring San Jose where I stayed during the weeks of class, and doing that helped me to experience everything the country had to offer. I saw rainforests, volcanoes, waterfalls, beaches, a live Central American soccer game, exotic animals, and I visited two other countries (Nicaragua and Panama). I even went on a zip line tour through the tropical cloud forest! I did end up spending a good amount of money on travel, but overall it was, as they say in Costa Rica, "Vale la pena", or, worth the penny.

Though my experience felt like it went too fast, I am glad I did it because it was the greatest life changing experience I have ever had. Thanks to all of the traveling I did I don't regret a single thing about the trip. However, if I could have, I would have made my time in Costa Rica longer. To wrap it all up, all I have to say is two words, which add up to be a universal phrase they used meaning everything that is good and pure life. Pura Vida!