Name: Samantha Johnson
Program: Short-term study tour in Germany
Major: History
Term Abroad: Summer during graduate school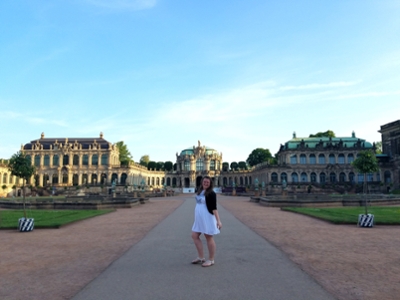 Throughout high school and undergrad I always wanted to study abroad but the timing was never right. In the spring of 2017 I started looking into studying abroad just to see what UMSL had to offer and I found the German Study Tour that was a perfect fit for my studies (I have a BA in History and am working towards an MA in History, concentration in Museum Studies). This was a two-week program to Germany where we studied the country from World War II to the end of the Cold War.
It was a fascinating trip where we traveled to Berlin, Dresden, Nuremberg, and Munich, to see how Germany remembers its often-unfortunate history, and to immerse ourselves in the German culture of course. With walking tours of all of the cities, courtesy of our German tour guides, we were able to get an overview of the history of each city, as well as see the famous landmarks and museums we have read about in history books including the Berlin Wall in Berlin, and the Documentation Center and Nazi Rally Grounds in Nuremberg, to name a few. We also visited the concentration camps of Sachsenhausen and Dachau, which were both extremely powerful to experience, and they were wonderful memorials for those who lost their lives during the Holocaust.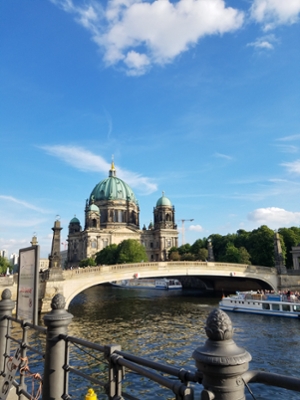 After our planned excursions for the day, which usually included a tour or museum visit of some sort, we were given free time and could see whatever we wanted to see. As a student in the Museum Studies program, I spent a lot of my free time in museums and was really excited to see how European museums compared to our American museums. My favorite museum was the Residenz in Munich, a former palace of the monarchs of Bavaria which showcases gorgeously decorated rooms, fine architecture, beautiful pieces of art, and additional treasures from the royal collections.
My favorite city that we visited was Dresden. It was badly damaged after the bombing that ensued during World War II but it has been working to rebuild itself in the old style of architecture that was prominent before the war. The buildings are beautiful, the city was perfectly set along the Elbe River, and the atmosphere was just peaceful and I could have easily spent all two weeks there. My second favorite activity was our trip to the Eagles Nest outside of Munich and situated in the Austrian Alps. The drive through the scenic German countryside was very different from the larger cities that we had previously seen throughout our trip. When we finally got to the top of the mountains to the Eagles Nest, the former resort of Adolf Hitler, I was stunned by the breathtaking view. I ended up taking way too many pictures but I wanted to make sure that I never forgot the experience.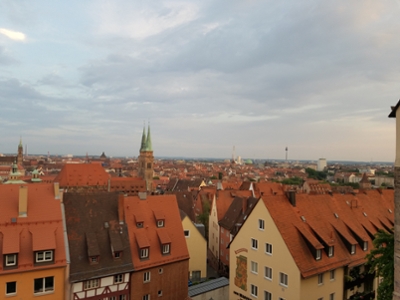 My study abroad experience to Germany has truly been the best experience of my life. Being immersed in the culture and visiting the places that I have previously only read about in history books was amazing and life changing. The experiences I gained not only helped with my educational endeavors, but it also allowed for personal growth, and I can already see how this experience will continue to shape my professional life. If you have ever wanted to study abroad, I highly encourage you to take advantage of the wonderful offerings that UMSL provides. I know that I am forever grateful for this amazing opportunity.