Name: Rosester Morrow
Program: Faculty-Led Program for Spanish in Barcelona
Major: International Business
Term Abroad: Summer 2015
Traveling to Spain has always been one of my dreams and when I got up the courage to apply for a study abroad program, I knew the Barcelona Summer Program was the one for me. After a day and a half of semi-comfortable traveling I found myself at El Prat Airport in Barcelona, Spain. Once I made my way through the baggage area I was greeted by the smiling faces of my program mates and Dr. Baldini. From there we caught an airport shuttle bus to the city center to make it to The Agora, where we would be staying. After dropping off our luggage we made our way to Las Ramblas, which is a big street filled to bursting with souvenir shops, cafes, restaurants and street performers. As if the novelty of that wasn't enough, you are surrounded by beautiful old buildings that you just know are filled with a history and beauty that just doesn't have a comparison in the United States. The streets are full of life and the Spanish always seem to have something to celebrate and so the atmosphere always seems to be very festive. Las Ramblas ends at the Mediterranean Sea, where you have a beautiful view of the harbors.
The classes at UAB were also fantastic and I absolutely loved my teachers. They were approachable and helpful and the classes are never boring. The school is located in a beautiful historic building close to the famous La Sagrada Familia, so after school you can go for lunch or a coffee with it as the background. In addition, at the language school you meet people from all over the world who are also learning Spanish and you are able to make life-long connections and experience different cultures.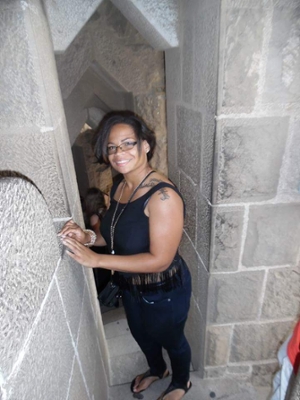 Most days after school Dr. Baldini took us on walking tours of some of the most famous places in Barcelona. The tours were always very interesting and Dr. Baldini always seems to know some little known fact that makes each place even more interesting than it may initially appear. We got to visit some of the famous buildings by Gaudi, one of the most famous architects in Barcelona, and even took a trip into the country side to visit a winery.
In addition to class and faculty led time, we also had a good number of off days were we could explore Barcelona on our own. The city seems to have something for everyone. There are many beaches close by if you prefer surf and sand and there are mountains that you can also explore or hike. In addition, they offer boat rides in the harbor, there are Picasso and Dali museums nearby and if you like to dance, discotecas at night.
Going to Spain was one of the best decisions of my life and I have been recommending Barcelona since I got back home. I feel like I have become a person much more aware of the world and I plan on returning the first chance I get.