Name: Paloma Bernhardt
Program: Provider program to Antonio de Nebrija University
Major: International Business
Term Abroad: Fall semester during senior year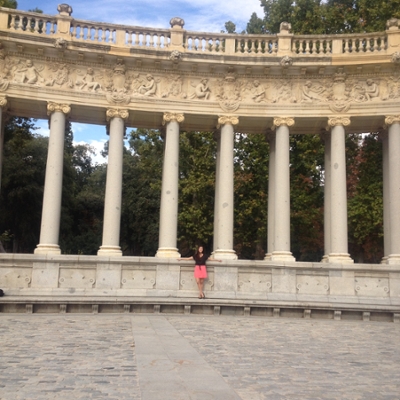 On August 28, 2013, after a 7-hour layover in the Chicago airport and an 8-hour plane ride, I arrived in the Madrid Barajas airport in Spain. I was prepared to spend the next 4.5 months in Spain studying international business and working on my Spanish language skills. At the airport I was picked up by my program and then met with the other students. We spent one night in a hotel doing a brief program and city orientation. The next morning I met my host mother Carmen and we took a taxi to my new home for the semester. It was located a bit outside the city center near Plaza de los Toros, the bullfighting arena in Madrid.
My host mother did not speak a word of English, which was quite a challenge for me in the first couple of weeks. But over time, I was able to understand her rapid Spanish and build not only my vocabulary and language skills, but also my speaking confidence. I attended classes at Antonio de Nebrija University on the outskirts of Madrid where I took some business courses in English and also some language and culture courses taught in Spanish. It was at my University that I learned a lot about the differences in Spanish culture from the United States. The professors taught differently, the school was run differently and things moved at a different pace. The expectations for students were high and it was difficult in a different way than in the US university system.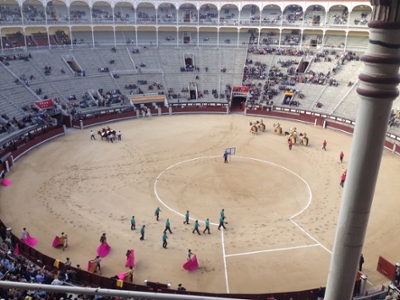 In Spain, I met students from all over the world. Some of my best friends for the semester I met at gatherings and from going out of my school environment and program comfort zone. These friends were not from the United States, so it gave me a chance to experience a different culture on a friendship level and also from living in a different country. I am still close with many of these new friends even though they live in countries far away. This experience taught me that although people come from different countries, cultures and backgrounds, it is possible to become friends with them and find something in common. In my case it was a love for adventure and trying new things. All of the students I met in Madrid had a lot of courage to leave their homes and go to a completely new city with a different language than their own.
I also had a chance to travel around Europe. The transportation there is fantastic and even without a car, I was able to travel to countries I have always dreamed of visiting. I visited Paris, Rome, Barcelona, Amsterdam, and Cologne. Each of these cities in these different countries showed me how diverse the European Union is even with the countries being so small and close together compared to the United States. I loved every trip I took and am amazed and grateful that I had the chance to take all those trips in 4 months.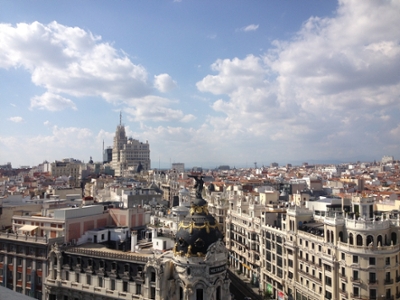 UMSL and my study abroad scholarship gave me a lifetime experience I will never forget. I was able to live in an amazing city, learn a new language and culture, and also make lifetime friends and new future goals. I am currently trying to move and get a job in Europe after my UMSL graduation in August because I loved my experience so much. Thank you to UMSL and the study abroad office for the fantastic job in helping sort all the difficult details out and giving me the opportunity to live my dream. Without all the help I received from this University, I would not have been able to make the experience I had possible.