Name: Jim Garrison
Program: Student teaching through the Education department in China
Major: Secondary Education
Term Abroad: Spring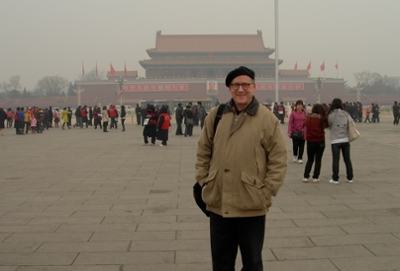 I had almost decided not to go to China for student teaching and do my semester in a local high school—my thinking being that local connections made would help me in my job search upon certification.  Times have made it hard enough to find work so why should I just make it harder?  But when I learned that the application I'd filed months before had been accepted, I decided this was an opportunity I couldn't pass up.  Having never spent a significant amount of time abroad, I was somewhat anxious about what to expect but I was also excited about the prospect of trying out my teaching skills in a challenging environment.  I had a little of the "if I can make it there, I can make it anywhere" attitude going in.
What I experienced on beginning my teaching of tenth graders at the Fuxin Experimental Middle School went far beyond my expectations—in terms of personal and professional satisfaction as well as challenges.  The students are enormously curious about "foreigners" in their midst and in many cases I was their first close encounter with one.  My colleagues and I taught what were in most cases among to first oral English classes any of them had taken.  As a consequence they were alternately shy and curious about trying out their speaking skills in this language they had mostly only learned to read and write.  I learned early on to slow down when speaking in class and to make liberal use of visual and musical communication to help bridge the language gap.  These were challenges of a different sort, surely, from what I would have faced in a local high school but they required some of the same skills—reflective self-examination, flexibility in lesson design, a lot of patience when things didn't follow my plan going in, and so on.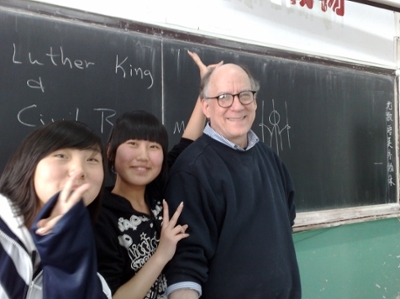 Our cooperating teacher is a professor at Shenyang Normal University.  She would take the train into Fuxin, observe our lessons, and then train back to Shenyang after giving us advice and feedback.  All of the members of my group from UMSL were invited to apply for teaching positions at Dr. Wang's university as oral English teachers.  The others in my group had other obligations in America but I did not and so I readily applied for work at Shenyang Normal.  I had planned to stay for one academic year but ended up teaching at SYNU for two years and have returned to St. Louis in the summer of 2012.  Several others who have taken part in the student-teaching abroad program have stayed or quickly returned to China to take teaching jobs either at SYNU or other schools.  graphy and contemporary issues—American studies, in a nutshell.  But I found that blending language skills with the content areas was not so difficult.  One trick I worked on was finding out what new vocabulary the students were learning in their regular English classes and then trying to incorporate these terms into my lessons.  Since I saw something like sixteen or so sections each week, all with the same lesson plan, I got fairly fluent by the end of the week.  I'd give the latter sections the impression that I could almost effortlessly pick up on the Chinese equivalents for their English vocabulary terms.  It was entertaining though wildly deceptive!