Name: Haley Cole
Program: Semester Exchange at the University of East Anglia, Norwich in England
Major: Psychology
Term Abroad: Spring semester during sophomore year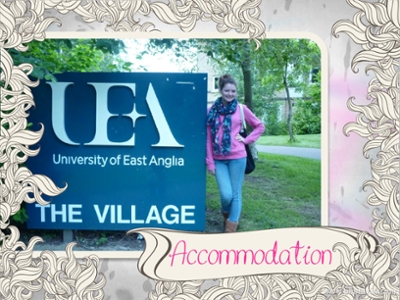 Pre departure
I never planned on studying abroad in college. It seemed nice but a dream that was too far out of reach financially. After my freshman year here I was more than comfortable with the campus.  I was working   on campus that summer and exploring the back hall ways of the MSC. That's when I stumbled into the study abroad office. I left with a couple of information packets containing unimaginable opportunities.  Selecting a program was a difficult decision only because there are so many amazing places to go. I met with advisors on and off after the initial stop and as they explained to me how study abroad works, it became more and more real to me.  I was shocked at how affordable studying abroad could be. Not only that, but you can take a semester or a year in a foreign country and earn credit towards graduation? The application process was a little rough. I like to plan things out way ahead of time, so waiting for my visa, course assignments, and to book my plane tickets was not easy.  I ticked the boxes off on my to do list, as I turned in parts of the application material, and as my departure date got closer. I'm still in awe of how this completely life-change experience just seemed to fall together from one curious detour into the study abroad office. 
The Beginning
I was beyond excited for my semester abroad in England. I packed my suitcase, unpacked, and repacked again until it was under 50 pounds. The morning I left I said goodbye to my parents at the airport gate. As I left, I didn't look back and haven't since.
The beginning of my semester abroad was a full 24-hours of firsts. It was my first time traveling alone, first international flight, first taxi ride, finishing strong with my first night in a British flat all alone. Luckily it was also the first day of some of my strongest friendships. I met other international students at orientation that first morning, and we helped each other get accommodated.  There is a strange sense of unity when you realize less than a day ago you walked away from all of your friends and family, all of the comforts of home, to embark on a journey oceans from any sense of familiarity, your completely on your own, and they are just like you.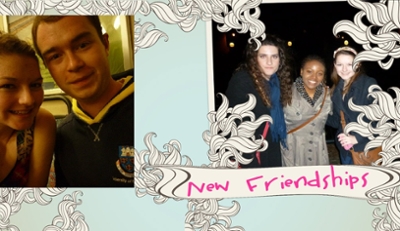 Living Abroad
I was taking the place of another exchange student, who was returning to America, in my new flat. My flat mates didn't arrive until a couple of days after I did. You can imagine my surprise when I arrived home one day to 7 strangers having a drink in my apartment. The initial awkwardness quickly turned into fascination on both sides about our very different cultures.  My flat mates eventually found Missouri on the US map, and I became accustomed to their "yourah'right?"s  instead of  my "hey whats up"s. They helped me format papers, invited me out when they went, and stayed in and watched movies with me when we didn't.  My flat was a part of the university accommodation, just a short walk off campus. I had my own small room equipped with a desk, bed, wardrobe, and bathroom pod. The kitchen, which all 8 of us shared, was our gathering grounds. It was home to many fond memories of afternoon teas, cooking disasters, and even a few flat parties.
Academics at UEA
When I signed up for my classes abroad, I did exactly what they tell you not to: scroll through the course offerings and pick whatever sounds fun. Luckily it was so early in my college career that my random selections could be counted towards my general education credits. Awesome as my schedule sounded, it definitely wasn't easy. The British school system is stricter, more competitive, and it is taken much more seriously by the students. I kind of went into my study abroad experience treating it like a vacation, until I realized I was going to have to devote much more time to my education. There was a lot of reading to do, and small group discussion. I was surprised and relieved that the only testing done was on the final exam, but that added hours to my finals week revision period because the stakes were that much higher. I can honestly say that I was challenged in my classes abroad, but a rigorous course load is still an important part of any study abroad experience.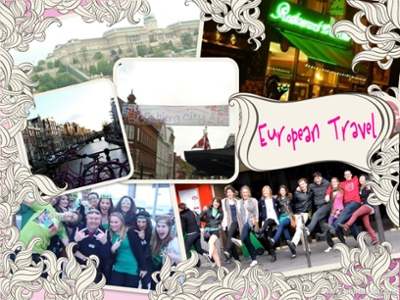 Travel
I was very fortunate during my time abroad to have many travel opportunities. I traveled all around the UK, and to other European countries as well. My first trip outside of England was to Paris with the International Student Society. Imagine 60 people crammed into a bus all toting backpacks full of cheap wine, and walking shoes. Despite the less than ideal travel conditions, the trips I went on were extraordinary.  Sharing hostels with friends is a uniquely overseas experience. We navigated the Parisian subway together, struggled to order food from little old ladies at baguette stands, and spent a night running around like children under the night sky and the glow of the Eiffel tower. I also went on many trips that I planned on my own with other international students.  We went to Denmark, The Netherlands, Ireland, and Tenerife just to name a few.  My best British friend and I traveled all around Europe during our break from exams. We went to Hungary, Poland, Belgium, and stopped off in Manchester, on the other side of the country, to cure my separation anxiety from taco bell.
I made amazing friends on my trip even though I was only there for 6 months. I started off completely on my own, and left with friendships that will truly last a life time. Pictured above are some of my international friends. On the left is a picture of my flat mate Jonny and I in Budapest. We took pictures just after we arrived in each airport on our country-hopping trip to document our survival. I still talk to Jonny all the time, and he is coming to America for his year abroad soon. It's almost like we traded cultures for short periods of our lives. Although we didn't know each other before, and we come from very different worlds, he is one of the most genuine people I have ever met, and I feel that time and oceans will not be able to separate our friendship. On the right are two more international friends, one from Greece and one British. They too offered me not just good times but a new cultural perspective I didn't even know I was looking for.
I have always taken academics seriously, and was warned of the stricter scholarly standards before I left for England. Balancing social life and school life is hard no matter what country one is in. However, I think that it is important not to overlook the good times in pursuit of good grades. While I did achieve high marks in my courses, what taught me the most overseas was interacting with other people. Studying abroad is all about learning by doing and in order for that to happen you have to immerse yourself in multiple aspects of culture. I played on the volleyball team at UEA and in the top left corner is a picture of my teammates and I on a volleyball pub-crawl. To the right of that is a picture of my flat mates who helped me become adjusted to English life and to grow as a person. Below, on the left is a photograph from a party with a group of the international students. We represented New Zealand, Australia, Greece, Canada, and of course America, and had an amazing time doing it. Finally on the bottom right, is a photograph from the end of the year ball, put on by the volleyball team. We dressed to the nines and celebrated an awesome seasons of wins and winning friendships.
In the end
I came back from Europe a completely different person. I had new perspectives, an open mind, and an insatiable case of wander lust. I think that every university student should study abroad.  I had no idea what I was getting myself into when I decided to apply for this program, but looking back I'm so glad that I did. I have come out a stronger, more confident, globally minded person, not to mention had a ton of fun, and I hope that everyone will take advantage of their opportunity to experience that through UMSL study abroad.