Name: Dana Channell
Program: UMSL faculty-led program for Irish Studies in Galway, Ireland
Major: Anthropology & Music
Term Abroad: Summer program during her junior year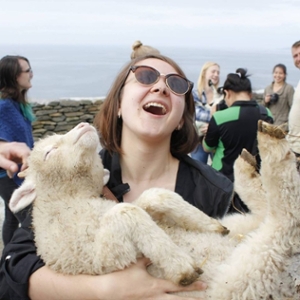 For those who argue that there isn't time in your program for study abroad, or that the courses offered might not actually move you closer to your major, or worry about costs or the daunting task of flying alone, let alone abroad, this is for you. I, too, had these same thoughts, and went through nearly three years of my undergraduate career safe in the knowledge that I would never get to experience another culture in the near future, and that if I wanted to travel abroad I would do it once I was graduated with a steady job and paid time off, thank-you-very-much. As a double major I doubted that it could be done, but I am here today to refute that claim as well. I am happy to say that I took a leap and was able to explore another culture, even learn some of a new language, and make lasting friendships all over the course of a summer.
            The Irish Studies summer program through the National University of Ireland – Galway offers a fantastic way to explore Irish culture through nearly every avenue possible. I chose two modules which fit my majors very well, taking courses in the archaeological heritage of Ireland as well as Irish Traditional Music and Dance, the latter of which was more than just an overview of techniques and song types but covered the intricacies of creating and shaping identity within these art forms in their naissance through the 21st century's expanding emigration and globalization. I was able to put information learned in class lectures directly to the test through my experiences outside of the classroom in archaeological field trips as well as nights out listening to skilled musicians in pub sessions. If our lived experiences in Ireland brought up new questions or contradictions with what we were learning, our professors, who are all noted within their field, encouraged us to pick their brains and find out more. Interdisciplinary seminars attended by the entire program were led by professors from every module, and were oriented so that students could further their understanding of how Ireland's culture relates to their own lived experiences, exploring topics including emigration and gender. For someone incredibly rooted within my own fields, opening up to explore new models of learning based on literature, sociology, and film also opened my mind to attending events outside of my class studies with the new friends I made.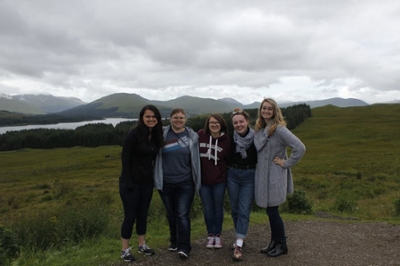 Some of the best and most memorable experiences were the spur of the moment decisions I made that I would never have thought of or followed through with back home prior to my study abroad experience. Attending a poetry reading by Irish writers at the Galway museum's café with friends from the creative writing module, or accompanying a new friend to the Crane Bar, famous for the pub sessions and storytelling, as he brought along a guitar to join in, let me delve into the unfamiliar and love every minute of it. What amazed me most about my stay in Galway was its incredible cultural diversity, not unlike that of St. Louis. As I was walking down by Galway Bay on an unexpectedly warm evening with my book, I met a bird photographer and a family who were looking for the rare dolphin or seal that occasionally swam by the coast. After we got to talking, we realized that out of the five of us gathered there, only the young daughter of the family was technically "Irish." As amazing as we found it at the time, I can completely understand why so many come from far away to Galway, with its welcoming street musicians and the delicious smells wafting from every restaurant and café doorway.
            Aside from my experience in Galway itself, the program also included two excursions to other regions of the country, both of which allowed us hands-on experience learning about the history of Ireland, from centuries-old stone forts overlooking icy blue waters 300 feet below to the gravestones and Christian pilgrimage sites that so many flocked to throughout the ages. Traveling into Gaeltacht, or predominantly Irish-speaking, regions, prepared with a few basic conversational phrases from extra-curricular language classes offered through the program, allowed me to experience a whole different side of Irish culture, challenging myself to initiate conversations and come out of my shell.
            I am incredibly grateful for the opportunity I have had to study abroad through UMSL, in many ways. Not only is the program itself fantastic and organized well on both ends, but the scholarship opportunities allowed me to afford traveling in the first place. In addition, the modules I chose counted for SIX credit hours toward my majors, and have even given me a starting point for further research I have been continuing through my departments here at UMSL. I am also grateful to myself, for taking the plunge to travel on my own for the first time, to travel abroad, to meet new people, and to dare to experience new things. I encourage you to do the same, because I know you can. Your life will be much richer for it, both in knowledge gained and lifelong friends made.
Cheers!