Name: Chandler EuBank
Program: Short-term program in Florence, Italy
Major: Anthropology
Term Abroad: Summer before senior year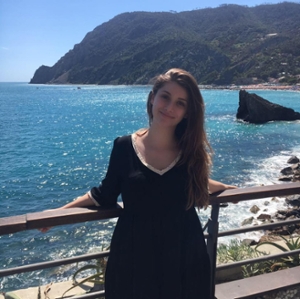 As a cultural anthropology major with a specific interest in East Asia, I never expected to study abroad in Italy. Sure, I, like most people, had daydreams of vacationing there: gorging on pasta and wine beneath a scorching summer sun. But actually living there for a short time? Not something I planned. Surely I should go to Korea or Japan instead?
However, when my favorite professor announced she would be leading a short summer program based in Florence, I jumped at the opportunity. It would bolster my art history minor and provide me with an experience unlike any I had had so far, so why not? Plus, I already knew I would enjoy the classes.
Class consisted of daily walking tours of museums, manor houses, and the streets of Florence as we studied architecture, art, and history. There were also several trips to the surrounding areas, such as Sienna (many students fell in love with the city) and a Tuscan winery, hosted by our host university in Florence (SRISA). Many students, my roommates and myself included, took advantage of the weekends to travel around Italy, seeing as much as possible. On a day trip to Monterroso al Mare, Cinque Terre, my Italian daydream finally came true: we sipped chilled white wine and feasted on seafood right next to the coast, watching the blue waves dance as we relaxed. Now, whenever I'm stressed, that's my "happy place" (hard to be stressed when you're imagining tiramisu at the beach…).
If you're looking for advice about studying abroad, I can tell you that it's unique for everyone. It's important to keep an open mind about everything, including where you want to go. For a year-long program, if your heart is set on one specific place, then certainly go for it. But for a shorter program, such as the summer program I went on, be spontaneous and let yourself be pleasantly surprised.