Name: Anthony Beesley
Program: UMSL exchange through l'Université Catholique de l'Ouest in Angers, France & a non-UMSL program in Seville, Spain
Major: French (Spanish minor)
Term Abroad: Academic year during senior year
When I studied abroad, I got a glimpse of the big world outside my home. Cultures I had only heard and read about were suddenly the fabric of my daily life, putting my own background into sharp perspective and teaching me to appreciate ways of thinking and living I hadn't encountered before. I did things I had never imagined I would do, from kayaking along the rocky coast of Portugal to riding a camel by moonlight on the dunes of the Sahara. I made friends who helped me push myself to get out, visit new places, try new foods, and simply have fun. It has been the most formative and memorable experience of my life.
As a French major, I had originally planned to spend a year in France with a view to completing my degree there, but when my advisor told me this could be accomplished in just one semester, I decided to get the most out of my trip by moving on to Spain. I am so thankful for that decision, because my experience in each country was unique and wonderful in its own way.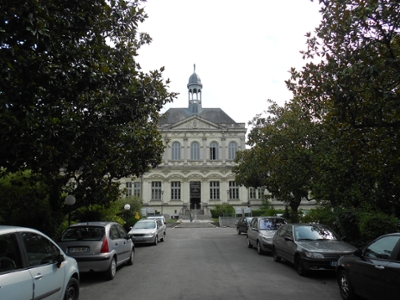 Life in Angers, France, was essentially my introduction to European academics. Since I took classes with French students, I had to get accustomed to a new kind of class schedule and a new way of navigating the semester: each of my classes met only once a week for three hours, sometimes skipping a week here and there, and there was barely any homework. Since my grades mainly depended on the results of the final exams (four-hour essays), my focus had to be on thoroughly understanding the lectures and on perfecting my composition skills. But France was more than just school, of course: I visited several other cities, saw some famous monuments, and tasted the world's very best food. Paris was, naturally, on the itinerary, and I found myself in a surreal moment gazing up at the magnificence of the Eiffel Tower, which I'd only seen before in movies and pictures. My final trip took me north from the port of Marseille all along eastern France, through the charming streets of Aix-en-Provence and into several of Lyon's famous pastry shops, until I alighted from the train for the last time to explore the Belgian city of Brussels.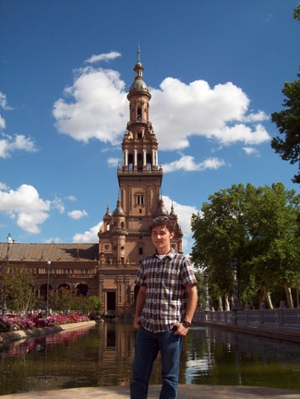 While I expected good things from Seville, Spain, from the day I arrived there it was clear to me that this experience would be the most brilliant one yet. My host mom—my host grandma, rather—was my first contact with Spanish culture, and a stunning introduction to the fast-paced Sevillian accent. Since I'd been a little shy in France, I made a big effort to meet people and go places during my time in Spain, and this really paid off. My assigned intercambio, a Spanish student named Julio, liked to show me the nooks and crannies of the city center, where he'd lived all his life. When I traveled to other cities, I would always go in a group with the international friends I'd met. We even ventured across the Strait of Gibraltar and took a tour of Morocco, where my French language skills proved useful once again. While at home in sunny Seville, we savored the Spanish cuisine, feasted our eyes and ears on Flamenco, and soaked up the excitement of the Semana Santa processions and the splendor of the Feria de Abril. My university studies were also very enjoyable, although the classes were designed for exchange students and thus followed the American model. The return to a familiar routine didn't hurt, at any rate, and actually helped me to focus on the cultural experience instead.
To any student thinking about study abroad, I encourage you to put aside any doubts that may be gnawing at you and just go for it! Even if you're not very outgoing or simply tend to be a homebody, this experience will prove to be the most worthwhile thing you've ever done. And it's easiest done now. Though my study abroad is over, I've still got the sweet taste of Europe in my mouth, and I dearly hope for the chance to go back there again.