Name: Alexis Bates
Program: UMSL faculty-led program for French to Strasbourg, France
Major: Biology
Term Abroad: Summer program during her Sophomore year
Read about all of Alexis's study abroad travels.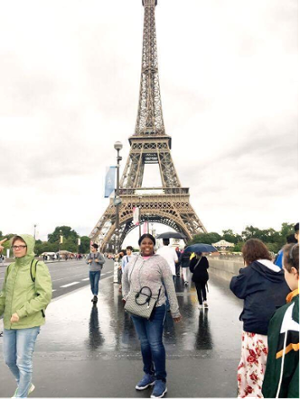 My name is Alexis Bates. I was a part of the 2017 Strasbourg Program. I spent three weeks in Strasbourg, France experiencing a new life. When I applied to study abroad, I didn't really know if I was interested in going. I knew I wanted to Study Abroad some time but I didn't think I would be able to study abroad so soon. I got accepted and I was really excited but I knew that I probably wasn't going to go. No one in my family had ever been out the country and for me to know that I could be the first was so unreal.
I didn't decide I was going to go until two months before it was time for me to depart. I did everything late and at one point I thought that I wouldn't be able to go because my passport didn't come until the week it was time for me to get on the plane. I learned so much and I experienced a lot.  I got to know how it feels to travel alone. It's almost like I grew up and had to take care of myself with none of my family by my side. I was put in situations where speaking French was my only option and that was probably one of the most challenging of them all.
My French vocabulary increased and I feel a lot more comfortable with trying even I got get it wrong. Another big thing I had to learn was to pace myself when I got lost. There were several situations where I wanted to explore and got lost. It was very scary but I was able to overcome the fears. Overall, studying abroad is an experience that has now opened my eyes to wanting to travel more, encouraging my family to travel and telling people tips and tasks I had to learn when I was there.