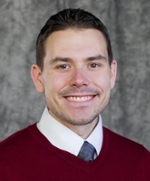 Michael Koertel
koertelmi@umsl.edu
Career Advisor
Undeclared
Mike Koertel is an Academic Advisor and primary contact for Undecided Students. Prior to coming to UMSL in November 2013, he was previously the Asst. Director of Career Services at Rhodes College in Memphis, TN and the Asst. Director of Career & Professional Development at Maryville University in St. Louis, MO. With a background in career counseling, Mike hopes to make an impact on the lives at students at UMSL by addressing their academic and career-related aspirations.
Mike has earned his MEd in Counseling Psychology (2012) and BA in Psychology (2009) from the University of Missouri-Columbia. He is a lifelong learner, and plans on continuing his education.
Among other interests, Mike also coached varsity football at a high school in Columbia, MO. He studied sport psychology as a graduate student, and has published work in coaching. He considers motivating others to achieve their own goals – be it on the field or in the classroom – to be a genuine passion.