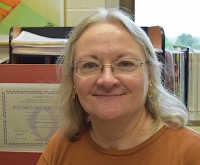 Office: 503 Lucas Hall
Phone: (314) 516-6575
zarucchi@umsl.edu
---
Jeanne Morgan Zarucchi is Professor of Art History and French at the University of Missouri-St. Louis. 
Zarucchi received her Ph.D. from Harvard University in 1983. She joined the campus in 1985 in the Department of Foreign Languages and Literatures (now Language and Cultural Studies), and has held a joint appointment in Art History since 1995. Her research interests are the interdisciplinary study of art, literature, and culture, ranging from the Renaissance through the 20th century. She is the author of two books on Charles Perrault, Perrault's Morals for Moderns and Charles Perrault's Memoirs of My Life, the latter of which was recognized by the journal of the American Library Association as one of the Outstanding Academic Books of 1990. She has published 35 articles in scholarly journals, including Journal for Eighteenth-Century Studies (U.K.), Renaissance Studies (U.K.), Seventeenth-Century French Studies (U.K.), Konsthistorisk tidskrift (Sweden), Woman's Art Journal, The French Review, Journal of Popular Culture, and Source: Notes in the History of Art. She has also made over 70 scholarly presentations to international, national, and regional audiences.
Zarucchi served as Art History Coordinator, Department Chair of Foreign Languages, and Department Chair of Art and Art History. She was Chair of the University Senate (1998-2000), and Chair of the Interdisciplinary Studies Committee (2005-2016). Since 1998, Zarucchi has been President of the UMSL Chapter of The Honor Society of Phi Kappa Phi. In September 2006, Zarucchi received the Chancellor's Award for Excellence in Service.  In January 2015, she was named a Knight in the Order of Academic Palms, an honor founded by Napoleon in 1808 and now awarded by the French Government to individuals who have made an outstanding contribution to French culture.